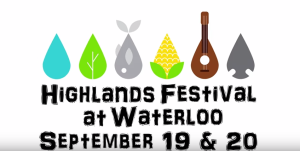 BOONTON, NJ (August 12, 2015) – The New Jersey Highlands Coalition is sponsoring a juried Art and Photography Exhibit in conjunction with its third annual Highlands Festival at Waterloo-an environmental festival celebrating the local food, music, arts, history, cultural and natural resources of the New Jersey Highlands to be held at Waterloo Village in Byram Township on September 19 and 20. All 2D work (paintings, drawings, pastels, watercolors, photography, etc.) will be considered as long as it features the landscapes, flora, fauna, natural or cultural resources of the New Jersey Highlands. Some 3 dimensional work will also be considered (see website for more details).
All artists over 18 years of age, regardless of experience are invited to enter. Winning artists and a selection of finalists will have their work featured in a special exhibit at the Morris Museum in Morristown, NJ, to be held this Fall in conjunction with the Highlands Festival. All finalists' work will be featured on digital display at the Festival in addition to the Festival's website and social media sites. Curated by New Jersey photographer Dwight Hiscano, juried by a panel of prominent local artists, and judged by Angela Sergonis-Melchion, associate curator for the Morris Museum, the exhibit, and the display at the Festival offers artists an opportunity to reach a much wider audience than in past exhibits. Additional prizes will include gift certificates for framing, art supplies and outdoor equipment. For more information, visit the "Activities" page on the Festival website: www.highlandsfestivalatwaterloo.org. To learn more about the Morris Museum, please visit www.morrismuseum.org.
Additional Information:
Initial digital entries must be received by midnight, September 8, 2015. Please see website for submission guidelines (http://highlandsfestivalatwaterloo.org/activities/).
Upon notification, winners' work must be delivered, ready to hang, to the Morris Museum between September 21 and September 24, and picked up between November 30 and December 2.
Contact Information:
Dwight Hiscano
908-273-5666
dwighthiscano@gmail.com
About the Morris Museum
Founded in 1913, the Morris Museum is an award-winning, community-based arts and cultural institution which serves the public through high caliber exhibitions in the arts, sciences and humanities. The Museum also offers educational programs, family events, and is home to the Bickford Theatre and its wide range of performing arts offerings. For more information, visit www.morrismuseum.org
About the NJ Highlands Coalition
The New Jersey Highlands Coalition hosts the Highlands Festival to raise awareness about the natural resources of the NJ Highlands region, to promote the mission of the NJ Highlands Coalition's 80+ nonprofit member organizations, and to fund the Small Grants Program which supports local grassroots organizations. As a nonprofit organization in Boonton, New Jersey, the New Jersey Highlands Coalition works to protect, restore, and enhance the water and other natural and cultural resources of New Jersey's Highlands, now and for the future. The Coalition serves eighty-eight municipalities in Bergen, Hunterdon, Morris, Passaic, Somerset, Sussex, and Warren counties that are protected under the New Jersey Highlands Water Protection and Planning Act in addition to the 5.4 million state residents who depend on the Highlands for drinking water. For more information on the NJ Highlands Coalition or to become a member, please visit the organization's website: http://www.njhighlandscoalition.org/
About the Highlands Festival at Waterloo
The Highlands Festival at Waterloo is a two day long celebration of New Jersey's home-grown music, food, art, crafts, history and entertainment. Taking place on September 19 and 20, this rain-or-shine event is open to people of all ages and features a range of activities, including musical performances, a children's corner, a local food court, beer garden, crafts and fair trade marketplace, historical tours, animal demonstrations, various workshops, kayaking, and guided nature hikes. For more information visit: http://highlandsfestivalatwaterloo.org