November Special Events at the Oakland Public Library (Children's Dept.)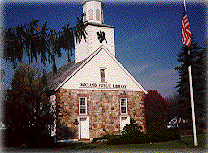 The Oakland Public Library will host the fourth annual "Truck Day" in the Library's Municipal Parking Lot on Saturday, November 4th from 1:00 to 3:00 pm. Oakland's own DPW, Fire Dept., First Aid Squad, and Police Dept. will bring vehicles to the event. Other vehicles may be invited. This is an opportunity for an up-close-and-personal look at vehicles seen around our community. "Truck Day" is a family program and all ages are invited to attend. The celebration will take place rain or shine! Refreshments will be served. No registration is necessary.
The Oakland Garden Club will visit the Library on Tuesday, November 14th from 3:45 to 4:30 pm. Oakland children, ages 5 & up, will be creating a bird feeder from a milk carton. This is a Thanksgiving Treat for backyard birds! The craft will be held in the Pat Turnier Craft Room. Registration begins Tuesday, October 24th.
Acclaimed singer-songwriter, Teri Merliss, will present her special blend of imaginative stories, original songs, and audience participation on Friday, November 17th from 10:30 to 11:00 am in the Oakland Public Library's story gallery. Oakland children, ages 2 & up, are invited to attend with a parent or caregiver. Registration begins Tuesday, October 24th.
Please register for the Garden Club Craft or Teri Merliss in person, online at http:oaklandnjlibrary.org, or by calling 201-337-3742.
The Library is located in the Oakland Municipal Plaza. Please call 201-337-3742 for further information.