Metropolitan Opera Orchestra, Broadway, and Boston Symphony Musicians to Perform in Sunday Afternoon Free Concert Series in Oakland
Oakland, New Jersey – New Friends of the Oakland Public Library announce the 2017-2018 Free Sunday Afternoon Concert Series. This exciting season, under the Artistic Direction of the Met Orchestra's Principal Associate Concertmaster Laura Hamilton, will feature some of the world's best musicians and performers. From the Ramapo Valley Chamber Ensemble to the Met's Greg Zuber on Percussion Mix-and-Match, to the world renowned Mark Sganga Jazz Quartet. The Concerts begin at 4:00 PM in the acoustically superb sanctuary of the Presbyterian Church of New Jersey, located at 222 Ramapo Valley Road in Oakland. These concerts are free, donations are gladly accepted and the venue is wheelchair accessible.
The Ramapo Valley Chamber Ensemble kicks off the season on October 22 with Boston Symphony's Jerome Rosen, piano; Met Orchestra's Vincent Lionti, Laura Hamilton and Jeehae Lee on viola and violin; and American Composers Orchestra's Lanny Paykin, cello.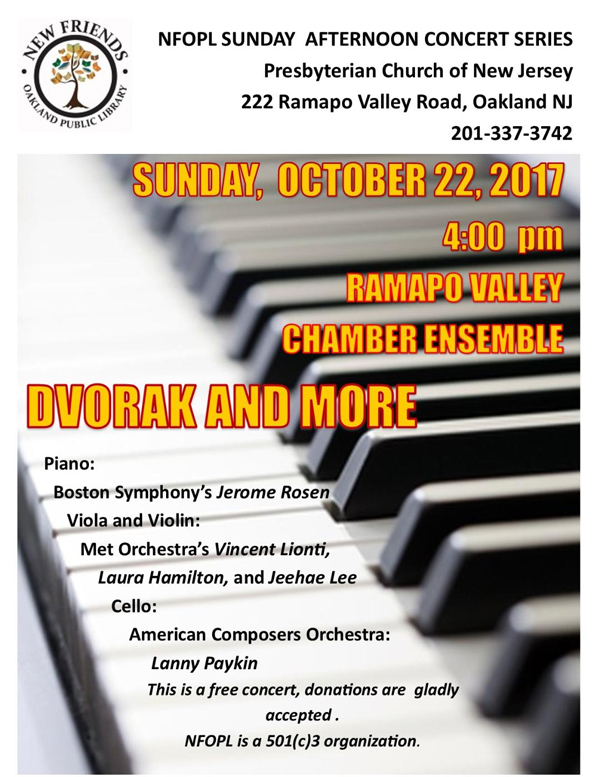 Marimba Mix & Match on November 19 features Met Orchestra members Greg Zuber, percussion and Laura Hamilton, violin; Lanny Paykin, cello; and Pat Zuber on flute who hails from the American Symphony Orchestra, New York City Opera, New York City Ballet, and Broadway.
Joyce Balint, Met Orchestra mandolinist and considered one of the foremost classical mandolinists in the USA, will perform in Magical Mandolin on February 11, with Spectrum Symphony Concertmaster and recording artist Susan Heerema on violin and viola; and Laura Hamilton and Lanny Paykin.
Mark Sganga Jazz Quartet returns to the Sunday Afternoon Concert Series on March 11. Mark Sganga has enthralled audiences from Stockholm to Kuala Lumpur to the Thredbo Jazz Festival in Australia. His dynamic guitar playing has been featured on tours and recordings with Indian violin virtuoso Dr. L. Subramaniam, alongside Larry Coryell and Herbie Hancock. A lifelong music educator, Mark has led numerous Master classes and workshops in improvisation, harmony, Latin rhythms, and arranging for solo guitar.
Met Orchestra's cellist, Sam Magill teams up with pianist Beth Levin to close out the series on April 15 with a Cello and Piano Recital. Sam Magill has appeared as soloist throughout Japan and the U.S., including performances in Tokyo's famed Suntory Hall and in Lincoln Center's Alice Tully Hall. Brooklyn-based pianist Beth Levin is celebrated as a bold interpreter of challenging works, from the Romantic canon to leading modernist composers. /The New York Times/ praised her "fire and originality," while /The New Yorker/ called her playing "revelatory."
For more information about the Sunday Afternoon Concert Series please contact the Oakland Library at 201-337-3742.