Hair, because it frames the face, has and always will be a prominent factor in how we express ourselves. We are in control of our hair – or we can be – and it is something that can be cut, colored, curled, and changed pretty much at will.
Hair is more than skin deep because we can control it, and make it reflect what we feel our identity is on the inside. Are you conservative? A rebel? Sassy? Casual? Urbane? Or maybe you are looking to try and pinpoint something new, and you just can't put a finger on it. Like a poem or a song, trying to express something about yourself that words just can't define.
And hair salon experience does put a person in control – and control can mean different things at different points in life; but, ultimately, it's about self-identity and learning to define you-to-you. A recent visit to Lilly's Lounge in Oakland, NJ captured that sense of both confirmation and self-discovery.
Before the hands go to work, whether for wash, cut, or make-up, time is spent between stylist and client in a transfer of knowledge. The process starts by talking, sharing, and understanding who this person is and what are they looking to achieve.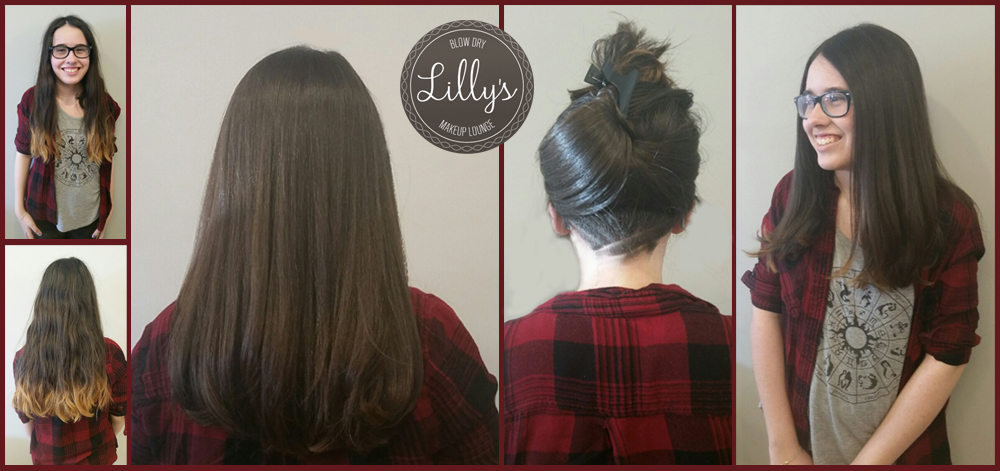 The client pictured on this visit was a young teen – but the challenges of defining self-identity are perpetual and timeless – so the goal remains the same even though the results are always unique.
A previous hair salon experience had led to results that aimed for a certain goal and had fallen short – but the Lilly stylist did not simply pick up where the previous stylist left off. Instead, it was start from-the-beginning by talking, discussing, sharing, learning, and understanding the client – then dive into the hands on work of bringing a vision into reality.
Sometimes the "vision" is only intended to be temporary – like for weddings, proms, special occasions where the idea of sustainability is not part of the equation; we want to look special for this moment in time. Lilly's Lounge handles those captured in time moments with their full service of make-up, blow outs, and haircuts. But on a day-to-day basis, matching style with sustainability can be one of the greatest challenges – most people don't have a stylist waiting for them at the breakfast table every day.
In this visit, the young teen carried a head of hair that was relatively long and thick – bringing the challenge of sustainability to the style chosen. The client also – as is common with young teens – looking to reflect an identity, something not always fully matured at a young age.
The result, a stylishly fun cut that tempered length and lushness with a manageability that could be carried over – and hidden underneath an "undercut" that voiced a little bit of rebel without shouting it too loud.
As Lilly's Blow Dry and Makeup Lounge enters it's 2nd year in Oakland, NJ they are now a full service hair salon as well as continuing their Makeup services. To see a full list of all their offerings visit their website at http://www.lillysblowdrybar.com/ or stop in at 400 Ramapo Valley Rd, Oakland, NJ.