Atul Gawande. Being Mortal. New York:
Thorndike Press, 2014.
As reviewed by Ted Odenwald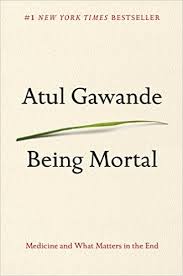 Dr. Gawande's study is both a challenge to the medical profession and an alert to patients and their families. He states that advances in medications and technology have "…turned the process of aging and dying into medical experiences, matters to be managed by health care professionals." Unfortunately, the medical world has proved to be "alarmingly unprepared for [this change]. " Medicine and technology have advanced so far that the ultimate goal has been to extend life; but that goal lacks "a coherent view of how people live successfully to the very end."
Citing several anecdotes from his family and from patients he has treated and interviewed, Gawande examines how the elderly and the infirm can become like prisoners with little if any say concerning their days of decline. A major part of the problem is the fact that through medical advances, "…the patterns of decline for many diseases have changed…and the curve of life becomes a big slow [downward] curve." While doctors deal with medical problems, they are not concerned with the patients' "active engagement in the world." According to Dr. Gawandi, the fear of losing that engagement is more palpable to the elderly than is death itself—for nothing is worse than losing the "abilities that matter most" to one's life.
Most medical professionals are trained to treat diseases; but often, through the treatment, the patient loses the life he/she enjoys; consequently, matters are made worse. Geriatricians focus differently upon their patients. They look to simplify the regimen of medications, look out for the patient's general hygiene, and check for signs of isolation. Unfortunately, there is a low number of doctors, psychiatrists, nurses, and social workers who specialize in geriatrics. The reason is money; hospitals find the specialty unprofitable; geriatric care requires "vigilance over nutrition, medications, and living situations" so that when the unavoidable decline occurs, the geriatricians can make the necessary adjustments to guarantee acceptable quality of life.
Gawande presents subjective evaluations of institutions established to deal with the elderly and disabled. He grants that nursing homes do provide some basics: meds, professional health services, physical therapy and bingo. "Yet still most consider modern old age homes frightening, desolate, even odious places to spend the last phase of one's life." Daily life in the nursing facility is built upon regimentation where the resident is "nannied and controlled," losing all independence; "…a life of worth and freedom is simply not possible." These institutions wind up addressing society's goals: "freeing up hospital beds…, taking the burdens off families' hands, … coping with poverty," and providing safety and security. But these facilities fail to deal with the most important goals of the residents: "how to make life worth living when we're weak and frail and can't fend for ourselves anymore."
The concept of assisted living homes was developed as an answer to the limitations of nursing facilities—the keyword was "homes." "At home, you decide how you spend your time, how you share your space, and how you manage your passions. Away from home, you don't." In these settings, residents reported increased satisfaction with their lives, and physical and cognitive functioning improved. Never forgotten is the person's "need for everyday comforts, for companionship, for help achieving…modest aims." But, according to Gawande, we can't be certain that assisted living fulfills all needs. He observes that it is hard to genuinely help people with living; there is no reliable measurement for a place's success in assisting people to live; and assisted living is geared more for the peace of mind of the children of the residents. The elderly are left with a "controlled and supervised institutional existence, a medically dispensed answer to unfixable problems, a life designed to be safe but empty of anything they care about."
Gawande then examines several places that have attacked the "three plagues of nursing home existence: boredom, loneliness, and helplessness." The goals of a "home" should be to help people dependent continue to find value in living. Places that worked had good-sized private rooms, a living room, a kitchen, and dining room. They also had large common areas to encourage socialization, while avoiding clinical settings.
The doctor applauds the philosophy and practices of hospice, a generally misunderstood organization. It is a health care system that actually helps people "achieve what's most important to them at the end of their lives. It allows people to shape their lives, by making choices according to their own priorities." Hospice helps people who have fatal illnesses to live "the fullest possible lives right now." The professionals determine those needs by speaking to the patients—asking questions to determine their needs, desires, and general understanding of their physical condition. The critical step is helping the patients deal with the overwhelming anxieties that they have about death: the extent that they would prefer to be shielded from suffering; what will happen to the loved ones; what will happen with family finances. These professionals focus upon what the patient wants.
As advanced as the medical profession may be, Dr. Gawande argues that there is a vital portion missing from the training and practice of most medical professionals: an understanding of the needs and desires of patients whose lives may have been extended—but often at the loss of quality of life. His argument is clearly motivated by deep insight and compassion for those who have lost most of what they have valued in life, but cling to whatever they can control to pass on with dignity and comfort of the soul.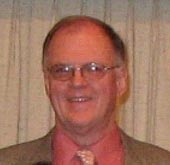 Ted Odenwald and his wife, Shirley have lived in Oakland for 46 years. He taught HS English at Glen Rock High School for all of those years plus one more. Now he is enjoying time spent with his family, singing in the North Jersey Chorus and quenching his wanderlust. Ted is also the Worship Leader at the Ramapo Valley Baptist Church in Oakland.