Can Animals Read Human Behavior? A Social Skills Experiment
Students at Barnstable Academy find out first hand.
By Lizanne M. Coyne
For the second straight year, Barnstable Academy teamed up with Cassie, golden retriever and her trainer, Mrs. Susan Alpert for a morning of dog therapy education and social interaction. Certified through The Bright and Beautiful Therapy Dogs, Inc., Cassie and Alpert are a team and travel to schools, nursing homes, hospitals, senior homes, and rehab facilities. "The goal is to bring unconditional love, support, comfort, and friendship to people in our community," explained Alpert. Cassie, Alpert, and her son Michael, a Barnstable Academy student, spent five weeks training with Vince Rambala Dog Trainer before becoming certified.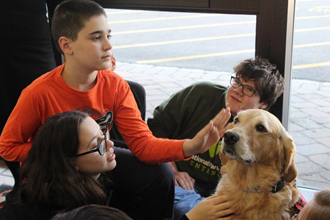 Barnstable Academy's students along with Dr. Rebecca Eliason, Director of Social Services, enjoyed the morning learning about the process, meeting Cassie, and experimenting with behaviors. Cassie demonstrated how she responds to people who are anxious, frightened, lonely, sad, or just need a friendly visit. "We are very appreciative that Mrs. Alpert brought Cassie in to teach us about dog therapy and the training process," said Eliason. "They helped us experience the benefits of this type of intervention," Eliason added.
Cassie and Alpert are volunteers and their visits are free of charge. If you or someone you know would like to schedule a visit, reach out directly to Susan Alpert at salpert884@aol.com.
Barnstable Academy is located at 8 Wright Way in Oakland, New Jersey and provides a college preparatory education to students in grades 5 through 12. For more information about
Barnstable's unique approach to middle school and high school education, please call (201) 651-
0200 or visit www.barnstableacademy.com.