Joe Biden. Promise Me, Dad: A Year of Hope, Hardship, and Purpose.
New York: Flatiron Books, 2017.
As reviewed by Ted Odenwald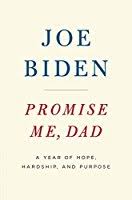 Former vice-presidents have been known to complain about being swallowed by an empty job, a basic sinecure. Joe Biden, President Obama's VP for two terms, had no such complaints. From the beginning of his first term, he embraced the many challenges of the office, serving as the President's right-hand man in many foreign and domestic assignments. But 2014-2015 presented him with the test of a lifetime: holding his family together as his oldest offspring, Beau, battled with glioblastoma, a deadly form of brain cancer. Though pulled in many directions, VP Biden was determined to remain focused: "I did not want to let down the country, the Obama administration, my family, myself, or most important, Beau."
Whether or not this memoir is viewed as an explanation for Biden's not running for president in 2016, it certainly appears to serve as a catharsis for the author. He experienced one crisis after another, and rather than withdrawing or pacing himself, he threw himself wholeheartedly into every situation, calling upon his inner strength, buoyed by compassion, love, and the wisdom gained from decades of service.
Biden had at first been reluctant when asked by Barack Obama to be his running mate. Having served in the senate for 36 years, Biden had never had a boss, and he had no taste for taking on an empty job. Obama agreed that his future VP would have the last word at every meeting—that his wisdom and experience would be respected—and that he would become the President's right-hand worker and consultant in times of crisis. Biden did take on many "big things" including overseeing the Recovery Act of 2009, handling budget negotiations with Senator Earle McCormick, improving diplomatic relations with Iraq, and calming tensions between Ukraine, and Russia.
2015 was particularly challenging as Biden was the government's chief negotiator with the "Northern Triangle" nations of Central America: Guatemala, Honduras, and El Salvador. While offering US aid to these countries, Biden insisted on reforms that would quell the crisis of thousands of unaccompanied children entering the US. His demands included proper use of financial aid (no corruption); quality education for the "underserved"; empowerment of women; improved health care and public safety; and reformation of the entire justice system. He served as chief negotiator with Ukraine and Russia regarding territorial claims. He also had direct communications with Iraq's prime minister, Haidu-al-Abadi, who was seeking aid in fighting ISIL. His efforts included striving to unite Shia Arabs, Sunni Arabs, and Kurds against the common enemy without having a heavy US military commitment.
His greatest challenge, however, was personal. His son Beau was undergoing treatment for stage 4 brain cancer. The treatments, both surgical and chemical, were aggressive and occasionally experimental. The VP made several trips to see his son at MD Andersen Cancer Center in Houston, and then at Walter Reed Hospital in the DC area. He received constant updates from his son, Hunter, his daughter, Ashley, and Beau's wife, Hallie. The VP's detailed accounts of Beau's treatments, and the accompanying hope, suffering, and disappointment, reveal much more than had been released through the media during the illness. Few people knew of Beau's illness; in fact, he was still acting attorney general in Delaware, and still planning to run for governor. Throughout this stressful period, the VP was lifted up by the courage and determination of his ailing son.
Compassion is one of Biden's signature attributes. A freshman senator in 1972, he had suffered unspeakable loss when a car crash had taken the lives of his wife and their 18-month-old daughter. Their two sons were both seriously injured. The support that he received from his family and friends helped to carry him through—and helped him to realize that the caring and sharing helped him to empathize with those who "…are quietly and uncomplainingly suffering psychological and emotional pain…." And he was also aware of "the ripple effect" of tragic loss. In 2014, Biden responded to NY Mayor Di Blasio's call to deliver the eulogy for a murdered NYC police officer; he spoke at the funeral, advocating community policing. He also sought out the Asian-American family of another murdered family. While there was a language barrier, the two fathers embraced—a gesture that spoke volumes. It said, "I get it. You are not alone."
In spite of his being in an already stressful situation, Biden received a great deal of pressure to declare for the presidential candidacy in the 2016 election. Much of the pressure came from his family, including Beau. "The running would give us purpose, and life—a way of defying the fates…Giving up running for president would be like giving up on Beau." He quickly picked up endorsements and financial backing, apparently on track to challenge Hillary Clinton. He appeared to be filled with the energy and resolve that would enable him to deal with international crises, political disagreements, a challenge to run for the nation's highest office, all while bearing the family's concerns for Beau.
Even in the depths of sorrow—for Beau had lost is long fight—Biden believed it was "…my public duty to demonstrate to the millions of people facing the same awful reality that it was possible to absorb real loss and make it through. My family and I had an obligation to show perseverance and grace."
Family support and self-understanding were essential to his strength. "It is a blessing to be able to share the feeling of enveloping grief to absorb some of the worst pain. But I have to come to understand that nobody can really take away all the pain no matter how close. There are times when each of us must bear the burden of loss alone, and in his or her own way."
The external show of strength and grace was shattered when Politico printed an article claiming that Biden had leaked what was allegedly Beau's deathbed wish that his father run for president. The VP was irate both because this report was false and because it cynically implied that Biden would try to gain sentimental support, profiting from his son's demise. The episode caused the VP to realize that he was not prepared emotionally to bring closure to his deep mourning; nor was he willing to lessen his responsibility for overseeing his family's recovery; nor was he willing to deal with similar vile attacks that were bound to come from opponents' campaign teams. He withdrew from the campaign, disappointed, but knowing that this was the correct decision.
Joe Biden's life has been one of total commitment: to political leadership, to greater international understanding and peace, to his president, whom he served as a right-hand-man and advisor, and to his family, whom he has led through times of tragedy.
Whether or not people agree with his political leanings, they have to admit that Joe Biden is an admirable public servant and family man.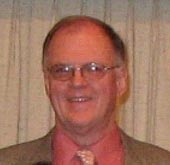 Ted Odenwald and his wife, Shirley have lived in Oakland for 47 years. He taught HS English at Glen Rock High School for all of those years plus one more. Now he is enjoying time spent with his family, singing in the North Jersey Chorus and quenching his wanderlust. Ted is also the Worship Leader at the Ramapo Valley Baptist Church in Oakland.