Charles Frazier. Varina: A Novel. New York: Harper Collins, 2018.
As reviewed by Ted Odenwald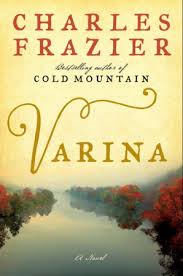 In 1906, Varina, Howell Davis, the 80-year-old widow of Confederate President, Jefferson Davis, is confronted in her Saratoga Springs, New York, residence by James Blake, an African-American teacher. Blake has with him a history of the Southern states, a history which speaks of Varina's role as the first lady, including her having a close attachment to a black child. Certain details have aroused Blake's suspicion that he may, in fact, have been that child, "Jimmy Limber," a boy with double joints. Varina has long been a reluctant conversationalist because she is still reviled by many in the North and the South (40 years after the Civil War had ended). But Blake wins her confidence through his genuine inquisitiveness and concern. He wants to fill a memory void of a period that shaped his life. Charles Frazier frames his novel using the conversations between these two individuals.
Because Blake's questions are in no special sequence, spurred on by Varina's responses, the resulting "biography" is rather piecemeal, but it presents an informative interpetattion of her formative years, her life as a politician's wife, her actions following the defeat of the Confederacy, and her years as a widow, striving to support herself and to assert and protect her independence.
At the age of 17, Varina Howell had been shipped off to a Mississippi plantation called "Hurricane," ruled by an ill-tempered slaveholder, Joseph Davis. The reason for her being sent off was her aristocratic father's improvidence due to bad investments and heavy debt. Frazier focuses on her anger and frustration at being moved around and treated like a commodity. Reading widely and being tutored, Varina proved to be very bright and independent in spite of the overbearing behavior of Davis. At 18, she married Davis's brother, Jefferson a widower who was nearly twice her age. The age difference, his obsessive mourning for his first wife, who had passed away seven years earlier, and Varina's feeling trapped into the marriage caused many difficulties in the building of their relationship. The year after their marriage, Jefferson was elected to the US House of Representatives. The following year he chose to serve in the Mexican War, leaving his wife for nearly two years. While he was away, Varina found herself being bossed around by her brother-in-law, who demanded subservient behavior. Her "escape" came the year after when Davis returned to Washington as a Senator from Mississippi. She loved the social activities that came with her husband's position. She stepped even higher when Davis was asked to be President Pierce's Secretary of War (1853-7). During the next administration, he returned to the Senate. Frazier recreates the excitement and enthusiasm that Varina felt as she circulated among the nation's aristocracy—somewhat of an outsider because of her comparative youth. As she speaks with James, she recalls the tensions that she had felt in social circles, as the hostilities between the northern and southern states were escalating.
Her recollections of her years as the Confederacy's first lady are not pleasant; she hated the war, she was not in favor of slavery, and she despised the "Grey House," the presidential mansion—in part because of the accidental death of her five-year-old son. As the war effort failed, she felt the wrath of the southern citizens, who blamed their President for the loss of a generation of young men, the destruction of property, and the general deterioration of life-style.
A major portion of the novel traces Varina's flight from Richmond as the war was clearly lost. Pursued by bounty hunters and Union troops, she headed for Florida with five children and a former slave. The account of this journey reminds readers of Inman's journey home in Frazier's Cold Mountain; both adventures are collections of events, in which the protagonists encounter individuals whose plights are indicative of the crushing effects of the war. For example, she meets the Wiggins, a Georgia family that has set up a defensive perimeter around their property to fend off Sherman's marauding troops. They have apparently killed and buried a number of soldiers seeking plunder.
While their defiance and courage are impressive, their failure to accept their inevitable destruction seems tragic. In another location, two young Southern boys face off in an argument defending their respective sense of honor; they wind up shooting and killing each other—just another useless throw-away to add to the heap of disasters. Varina is proud that she and her small entourage nearly made it to safety; she was captured after having travelled several hundred miles. As Varina recounts for James the many markers of this journey, he is able to recall "flashes" of the events, including being captured and then shipped off (by Mrs. Davis) to a Union general for the child's safety.
The post-war years were challenging for Varina. Her husband, sentenced to death for treason, was held in horrible conditions in Fort Monroe. Varina fought to help him, even though she was not highly respected. She was eventually able to improve his conditions in prison, and to secure his release. After his death, she moved north and became a journalist for local magazines and papers. She also completed her husband's memoirs.
Frazier has Varina elaborate on some of her friendships. For years, she had been close to Mary Chesnutt, whose memoirs of the Civil War provide classic insights into the despairing views of the more realistic southern citizens. Both women hated the war and its cause; Varina even voiced that the right side won. She also developed a close friendship with Julia Grant, the wife of General/President Grant. Both women had seen their husbands being abused for horrible losses in the war, for personal behavior, and for corruption in their respective administrations. The women's bond was mutually comforting.
Frazier's novel serves as a fascinating interpolation of the facts known about Varina Davis, a person to whom little attention has been given. Frazier, through the fictional interviews with Blake, allows Varina to put down her defensive shield of reclusiveness, and to open up about the events that had shaped her life as a young aristocrat, a reluctant first lady, a protective mother and fugitive, and an intelligent, gifted writer who could build a career for herself even in a world that still harbored hard feelings concerning the Civil War.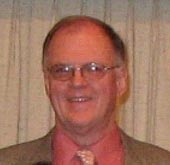 Ted Odenwald and his wife, Shirley have lived in Oakland for 48 years. He taught HS English at Glen Rock High School for all of those years plus one more. Now he is enjoying time spent with his family, singing in the North Jersey Chorus and quenching his wanderlust. Ted is also the Worship Leader at the Ramapo Valley Baptist Church in Oakland.