FLOW Follies Celebrates 30th Anniversary!
MARK YOUR CALENDARS! FLOW Follies is excited to perform its 30th annual musical variety show, "30 Years…FLOWin' with the FOLLIES", March 10th-13th Thursday- Saturday at 7:30pm and Sunday at 2:00pm, at Indian Hills High School, Oakland, NJ.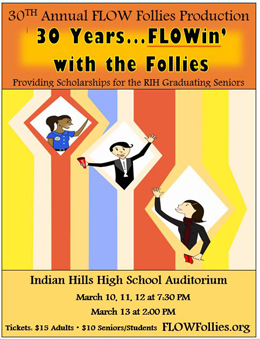 This annual fundraiser is sure to be a fun- filled show for all ages, with a mélange of Follies favorite selections of songs, dances and sketches picked from 30 years of Follies productions plus, performances from Color Guard, Dance Team, FLOW Kids Choir and additional special guests! More than 50 RIH High School parents, FLOW Follies Alumni and Franklin Lakes, Oakland and Wyckoff community members will sing, act, dance, build sets and sew costumes for this one-of-a-kind production. Proceeds from the event will go to fund scholarships for the 2016 graduating seniors of the Ramapo and Indian Hills High Schools, including needs based students.
FLOW Follies Announcements – Visit Website for more info www.FLOWFOLLIES.ORG
• SHOW TICKETS- $15 ADULTS $10 STUDENT/SENIOR Click Purchase online
• DISCOUNT TICKETS- LIMITED Quantity $10 Tickets @ RE/MAX, 383 Ramapo Valley Rd. Oakland
• BOX OFFICE VOLUNTEERS NEEDED- Click to Volunteer
• FLOW Follies Art Contest Winner- HAILEY MEYER, Ramapo '16
• "In it to Win It" Mini Scholarship Drawing- RIH Seniors eligible to enter the drawing with $10 Student show ticket! Drawing to be held during Sunday's performance.
• Interact Club hosts Munchies & Matinee- Senior Citizen Luncheon & Show- Sunday March 13th 1pm lunch/2pm show just $10! Invite grandparents/neighbors to this special event! Reservation Deadline: March 9th Click for Info & Reservations
• Donate! Big or Small- We are thankful for all! Donations
• Join FLOW Follies- Click to Join!
Since inception in 1986, FLOW Follies has raised over $600,000 which has been distributed to hundreds of students making it the single largest scholarship fundraiser for the two high schools. FLOW Follies is a registered 501(c) 3 non-profit organization under the parent organizations of the Ramapo Indian Hills Regional High School District.