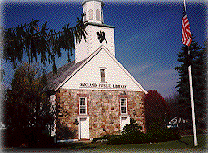 The Summer Outdoor Rock and Roll Concert on the Library Lawn will feature the RAVE ON! Band on Tuesday, July 31 at 7:00 PM. RAVE ON! is a band that features the music of Buddy Holly and Roy Orbison, playing hits like "That'll Be The Day,", "Not Fade Away," "Peggy Sue," "Pretty Woman," "Crying," and "Only The Lonely," along with other
classic early rock-n-roll songs. This music paved the way for rock-n-roll and influenced The Beatles,
On Thursday, July 13 at 6:30 PM at the Oakland Library, Author and Professor of Journalism at Johnson State College, Tyrone Shaw, will share his experiences and read from his book Bastard Republic: Encounters Along the Tattered Edge of a Fallen Empire. Exemplifying the best traditions of literary journalism, Bastard Republic takes us inside two of the defining developments of the 20th century—the collapse of communism in Europe and the implosion of the Soviet Union. Through a compelling mix of memoir, reportage, history and travel writing, this collection of immersion essays accomplishes what facts alone cannot by drawing us into the lives of people propelled towards a future of sudden, rough transformation. Shaw probes recent history through their voices as they struggle for identity and equilibrium amidst revolution and massive social upheaval. Registration required by phone: 201-337-3742 or online at www.oaklandnjlibrary.org. Books will be available for purchase, Bastard Republic is available at the library.
Shakespeare Theater of NJ's Next Stage Ensemble returns to the Oakland Library on Tuesday, July 18 at 6:30 with Shakespeare's comedy The Taming of the Shrew. One of the divisions of The Shakespeare Theatre of New Jersey's Summer Professional Training Program, the Next Stage Ensemble was created to foster the work of early-career actors. Participants take advanced classes in voice and movement, while working on hour-long productions of classic plays. Please bring your own lawn chair. This production is appropriate for ages 10 – 100. Inclement weather location will be the Oakland Senior Center, located at 20 Lawlor Drive, Oakland, NJ
Palisades Amusement Park: A Century of Fond Memories is presented on Monday, July 24 at 6:30 PM. Vince Gargiulo, author of the book Palisades Amusement Park and the Executive Producer of the NY/Thirteen PBS documentary of the same name, will take the audience through a multi- media tour of the Palisades Amusement Park: A Century of Fond Memories. Registration required by phone: 201-337-3742 or online at www.oaklandnjlibrary.org.
Computer Workshop Wednesdays at 1:00 – 2:30 PM Please call the library to register: 201-337-3742.
July 19 – Facebook: Create an FB account and learn how to connect with friends and family; July 26- Introduction to EXCEL: learn the basics.