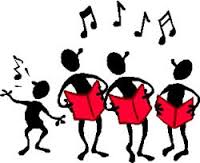 The Ramapo Valley Baptist Church is looking for kids who like to sing and act for its Kids Choir Program. Our Kids Choir is open to children from the community age 4 to grade 8. There is no charge for this program no experience is needed. The choir meets every Friday, September through May at the church from 4:00 – 5:00 pm. The choir is led by Laura Belle who writes and directs 2 programs a year, plus any other special appearances that may come up.
The Ramapo Valley Baptist Church is a family church. All our programs and outreach are designed for families to participate together in worship, fellowship and mission. Worship is upbeat and exciting, and children are welcomed to share in the worship service. Preaching, teaching and programs are all aimed at making the truths of the Bible relevant in our everyday lives. Our hope is to challenge each person to show the love of Christ at home, at work, at school and in the community.
For more information about our services or any of the other Ramapo Valley Baptist Church programs phone 201-337-6665, email us at ramapovalleybaptist@verizon.net or visit our web-site at http://www.rvbcnj.org.