Congratulations to 2015 Oakland Hall of Fame Nominee Steve Wagoner!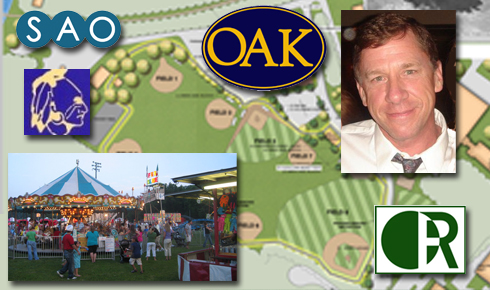 Steve Wagoner is a life-long resident of Oakland and his involvement with Oakland Recreation spanned from 1967 through 2014. Steve began as a little league player while moving on to coach and sports director during the 1980s and 1990s. Since 2000 Steve served two terms on the Recreation Commission, his second term acting as its chair. Steve was instrumental in reforming the Sports Association of Oakland to become a fully registered 501(c)(3) non-profit organization dedicated to aiding and financing sports and arts-related endeavors in our town.  Steve's 4+ decades of service to the recreation community hit a pinnacle in 2012.  In the summer of '12 Steve led the SAO in running the Oakland carnival. 100% of the  over $25,000 funds collected from the carnival were put toward the new walking path. The walking path encircling the Recreation Complex will be completed this year.
When we reached out to Steve about his nomination he said " I couldn't be more honored.  To be put among some very special people who have been inducted in the past is really humbling. Serving on the Rec Commission was a great honor for me, a job I took very seriously. There is so much that goes into being a Rec Commissioner, but at the end of the day, it's really about the kids and recreation for all Oaklanders. Finally being on the SAO didn't feel like work at all, it was rewarding and fun and I got to work with some great folks. All of whom made it that much more enjoyable. I am very proud of our small group and all we accomplished. And I thank them for giving me this honor."
The Sports Association of Oakland is proud to nominate community leader Steve Wagoner to the Oakland Sports Hall of Fame.  Steve's formal induction will take place on Saturday June 6th as part of the baseball/softball parade.