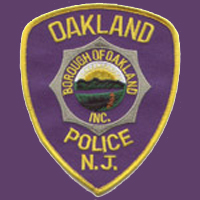 JULY 27: While on patrol Officer Bryan Rowin observed an 18-year-old Oakland resident seated as a passenger in a motor vehicle who was known to have an active criminal warrant for his arrest issued out of Wanaque, NJ. A stop of the vehicle was initiated on West Oakland Ave and the offender was taken into custody, processed, and later released from custody after securing a bond for his release.
JULY 28: Officer Thomas Pianettini responded to a complaint made by an employee at the Oakland Wine & Liquors regarding an underage patron attempting to purchase alcohol with a fraudulent ID. The suspect fled prior to the arrival of patrol but the employee still had the presented drivers license and surrendered it to Ptl Pianettini. Upon further investigation the offenders identity was determined and a criminal charge was brought against a 19-year-old male resident of Wyckoff.
JULY 31: The Rockaway Police Department requested assistance for locating two residents and serving them with drug related criminal warrants. An 18-year-old resident of Park Dr and a 19-year-old female resident of Lawlor Dr were both located on Park Dr and taken into custody without incident. Bail was set at $150,000 and $125,000 respectively and after neither party was able to secure the necessary funds for their release, were lodged in the Morris County Jail in lieu of bail. A 50-year-old male was also located at the Park Dr residence who was known to have an active criminal warrant issued out of Fair Lawn and that individual was also taken into custody and later released on a posted bond. Sgt Keith Sanzari, Det Mark Piercy, Ptl Stephen Broek, and Ptl Ryan O'Keefe assisted with the arrests.
JULY 31: A resident from Thackeray Road reported being a victim of debit card fraud after she was notified by her bank of numerous suspicious and unapproved transactions on her account. Officer Stephen Broek handled the initial investigation. Report taken and matter forwarded to the Detective Bureau.