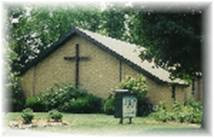 Pastor Russell Stammer has been named the interim pastor at the Ramapo Valley Baptist Church on Franklin Ave in Oakland, NJ, a position in which he will serve while the church goes through the search process for a new senior pastor.
Pastor Stammer has been serving the congregation at Ramapo Valley Baptist Church for the past 6 years in various positions, most recently as the Associate Pastor. Besides his active ministry at the church, Pastor Stammer also serves as Chaplain and firefighter for both the Oakland and Riverdale Fire Departments. In addition, he is a member of the Board of Directors in the Fellowship of Christian Firefighters International. He was licensed by the American Baptist Churches of New Jersey and is pursuing his ordination with the American Baptist Churches USA. He graduated magna cum laude from Nyack College with a degree in Pastoral Ministry.
Outside of the church, Pastor Stammer has worked at a variety of jobs including at the corporate office of Toys "R" Us where he recently celebrated 20 years.
Stammer brings to his ministry his life experience, his sense of humor, his creativity, his candor and his belief that the church and the Gospel that we live and preach are, indeed, good news and our hope for wholeness in this broken world. Pastor Stammer lives in Oakland with his wife Eleanor and his children Katie and Jonathan.
The Ramapo Valley Baptist Church is a family church. All our programs and outreach are designed for families to participate together in worship, fellowship and mission. Worship is upbeat and exciting, and children are welcomed to share in the worship service. Preaching, teaching and programs are all aimed at making the truths of the Bible relevant in our everyday lives. Our hope is to challenge each person to show the love of Christ at home, at work, at school and in the community.
For more information about the Ramapo Valley Baptist Church programs phone 201-337-6665, visit their web-site at http://www.rvbcnj.org or follow us on Facebook.