Roll Tribe
How Oakland Recreation and Indian Hills Athletics are working together
to build one contiguous Braves program.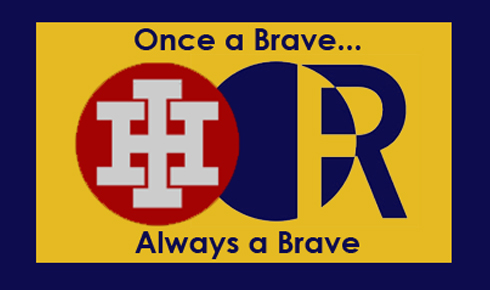 Great athletic success in the Indian Hills High School athletic programs isn't just by coincidence. Hard work, perseverance and youth development is what has been bringing the Braves back on top of a very competitive athletic conference.
The once struggling football program has been steadily building from within, and has made huge leaps and bounds this year, enjoying its first winning season in over 10 years. The softball program has now won 3 State Championships in the last 5 years.
Other programs such as girl's lacrosse, bowling, track, hockey and swimming have had major successes within the past few years as well; while our other sports like basketball and soccer have been extremely competitive and continue to nudge their way to the top.
Although Indian Hills is a regional high school, drawing from the 3 local middle schools, all but one or two of their sports rosters are made up predominately from kids who developed their skills and talents in the Oakland recreation program.
Helping to stock IHHS with homegrown talent has been one of the great efforts of the Oakland Recreation Commission. Most Indian Hills teams give back and help the recreation players learn to play and enjoy the game, while developing our youth for future roster spots at Indian Hills.
Oakland Softball Commissioner Dan Logatto states "One of the biggest reasons Oakland Rec softball enjoys such a high participation rate has just as much to do with the input of the Indian Hills Softball coaches and players, in the form of Coaches Clinics by Coach Leitch and his staff, and full day Softball Clinics for our players, by his players, – than it does by great coaching and teaching our players get from our Moms and Dads on the fields every day during the season" Dan added "Also , name me one other town in this county, or better yet this state, where you will find our travel teams coached by former players, some being 2 time state champions, the Indian Hills JV Coach and by an Indian Hills freshman assistant – it just doesn't happen anywhere else. That being said, Coach Leicht is the first one to thank and congratulate Oakland Recreation when it was HIS girls that won their State Championships! We take great pride and the responsibility very seriously – to be known as the Indian Hills girls' softball feeder program".
The football program which is now coming out of a valley, turned a big corner last season, and looks forward to even more development next year. When Coach Sabella took over as IHHS Head Football coach the team was in a dark place: dearth of players in numbers and in most cases overall conditioning. It has taken a lot of hard work to get the program back on the winning track, and with a few more tweaks the team should be ready to make the next leap. To show the continued advancement in the relationship between Indian Hills and the rec program, last season Coach Sabella invited the Oakland Braves Youth Football Program to play three games on the high school turf field, under the lights on a Friday night in October. This included the rec players visit to the locker room to speak with Varsity coaches and players, as well as enjoy in the camaraderie that the two programs share. There were 12 seniors on last year's IHHS Varsity team and ALL 12 of them was from Oakland.
"The opportunity to play on the turf field, under the lights at IHHS was truly a highlight of the 2014 Oakland Braves Youth Football season and are grateful to Coach Sabella, his staff, and Lorenzo Baratta for the great cooperation between our programs." said Tim Pernetti, Commissioner, Oakland Youth Football. "Coach Sabella and his staff and players, including many from our youth program, visited our practice field during the pre-season and spoke to our entire program and all of our parents last year in addition to giving our players great access to the field, their practices, and the sideline during games. We're looking forward to working closely with the football program at IHHS again in 2015"
The relationship between Oakland Recreation and Indian Hills took a sharp spike upwards in 2012. This was the year that the RIH Board of Education hired Lorenzo Baratta as it's new Athletic Director and in the same year Oakland's Mayor Schwager reappointed Mike Guadagnino to the Recreation Commission where he was elected as its Chair.
We asked both Indian Hills Athletic Director Lorenzo Baratta and Oakland Recreation Chairman Mike Guadagnino what the relationship between the two programs means to them. "I think of Oakland as a feeder program for Indian Hills" said Chairman Guadagnino. "We offer over 20 different recreation programs which total over 4,000 participants. Most children choose to participate in sports for the sake of having fun and enjoy playing with their friends. For those who are interested in eventually participating in high school level sports we do offer programs, as well as joint HS/recreation programs with Indian Hills."
"I believe that there has always been a great deal of cooperation between our communities but in the last few years it has reach new heights. We have met to coordinate schedules, we have held meetings to discuss our programs and we have fostered change in our coaches and how we work with Oakland Rec", said Athletic Director Baratta. "Recreation has changed their football schedules to allow our coaches the flexibility to come watch their games. They are involved in 'clap outs' when our teams bring home State Championships and they always support us at our games. Dr. Guadagnino, Mr. Logatto and Mr. Pernetti have worked hard at supporting us and we have met on many occasions to discuss what we can do to help their programs and continue the positive relationship we have enjoyed. I am always in contact with recreation wrestling coordinator Mr. Schlenker and recreation girl's basketball coordinator Mr. Donavan. We communicate and work well together. We have gotten nothing but positive support from our Rec. program and we will keep an open dialogue to allow that to continue"
Guadagnino adds "You are starting to see the Indian Hills basketball, wrestling and cheerleading programs reach out to our recreation program as well. The Hills soccer program, who once seemed only aligned with club teams have now made great overtures to help, develop and nurture the recreation soccer teams. It's quite an extraordinary relationship we have with Indian Hills High School". Baratta agreed, "Our Relationship has been outstanding".
This summer Oakland Recreation has added even more summer sports clinics and camps – all directed by Indian Hills coaches. The programs are Football, Volleyball, Boys and Girls Soccer, Softball, Wrestling and Boys & Girls Basketball. Participants in these recreation programs will have an opportunity to learn "hands on" from the high school coaches. This is a great opportunity for anyone to try a new sport or learn from potentially their future coach. Information about these Oakland Recreation clinics can be found on their website at www.OaklandRec.org.
It's not a coincidence that the town with such a busy working Recreation Commission, top notch recreation complex and best overall programs helps support and stock the rosters of a one of the more successful high school programs.
Go Braves, both Oakland and Indian Hills!