Ramapo Bergen Animal Refuge rescues 7 dogs and 5 cats from Louisiana flooding
Oakland, N.J., August 31, 2016 – Ramapo Bergen Animal Refuge recently rescued 7 dogs and 5 cats from the devastating floods in Louisiana.
Recent flooding in Louisiana has had massive impacts on human lives and property, but as rescuers, our hearts sink as we wonder, "What about the animals?" The effect of the flooding was tragic for those animals left behind, but rescue efforts have been heroic and saved thousands.
On Sunday, August 21st, the Ramapo-Bergen Animal Refuge, Inc. (RBARI) received a plea for help from Southern Paws rescue in Louisiana. Thirty dogs tragically lost their lives when one shelter flooded, and rescuers were determined to do everything they could to prevent any further loss. But, they were facing overpopulation of shelters as the waters receded, and the grim reality of euthanasia in high volume shelters loomed and still does today. These dogs and cats had survived the floods, but there just wasn't enough space.
RBARI offered to take on some of the survivors who were now facing euthanasia. These dogs and cats were living in shelters when the rain began to come down. They had miraculously survived this massive flooding, but they had no chance for a better life in this devastated region. Their spaces in the shelter needed to be occupied by animals separated from their families by the floods, who are given up to 90 days for their families to find them.
RBARI was overflowing from summer intakes, but we had to do something. Staff and volunteers worked together and put out a plea for foster homes. Just five days later, RBARI welcomed 7 dogs and 5 cats from Louisiana. Staff worked diligently to accept these new arrivals and tended to their medical needs. These sweet babies, who had been through such horror and devastation, finally had a safe place, warm bed and loving arms to call their own.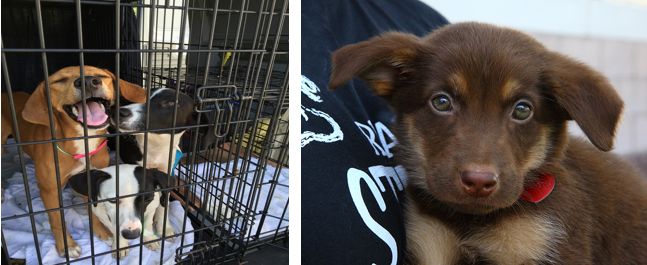 These adorable cats and dogs will be ready for adoption shortly. If you are interested in rescuing a Louisiana flood animal please contact our shelter at 201-337-5180.
If you are not able to help provide these animals with a loving home you can still make a difference by donating to Ramapo Bergen Animal's Betty Lou Fund, which helps with rescues of this nature.
You can donate by going to www.rbari.org/donate/betty-lou-fund
Ramapo Bergen Animal Refuge, Inc. is a 501 (c) (3) non-profit serving all of Northern New Jersey. It is the leading no-kill animal shelter in Bergen County whose primary mission is to SAVE MORE LIVES. Ramapo-Bergen Animal Refuge, Inc. is founded on the belief that all animals have a natural right to humane treatment including proper care and safe shelter. Please help us save more lives today.