OCTOBER ADULT PROGRAMS AND EVENTS AT THE OAKLAND LIBRARY
New Friends of the Oakland Public Library 2017-2018 Free Sunday Afternoon Concert Series. This exciting season, under the Artistic Direction of the Met Orchestra's Principal Associate Concertmaster Laura Hamilton, will feature some of the world's best musicians and performers. The Ramapo Valley Chamber Ensemble – Dvorak Piano Quintet and More kicks off the season on October 22 with Boston Symphony's Jerome Rosen, piano; Met Orchestra's Vincent Lionti, Laura Hamilton and Jeehae Lee on viola and violin; and American Composers Orchestra's Lanny Paykin, cello. The Concerts begin at 4:00 PM in the acoustically superb sanctuary of the Presbyterian Church of New Jersey, located at 222 Ramapo Valley Road in Oakland. These concerts are free, donations are gladly accepted and the venue is wheelchair accessible.
The New Friends of the Oakland Public Library will be holding a Jewelry and Note Card Sale on Saturday, October 28 from 9:30 – 5:00 To benefit a true jewel: Oakland's Newly Renovated Library.
From Adorable to Attention-getting, Everyday to Elegant, Funky to Fancy, Pre-formed to Prismatic this sale will contain many handcrafted pieces, vintage pieces and beautiful note cards. Something for every style and every budget. Get a head start on gift giving and support our gem of a Library.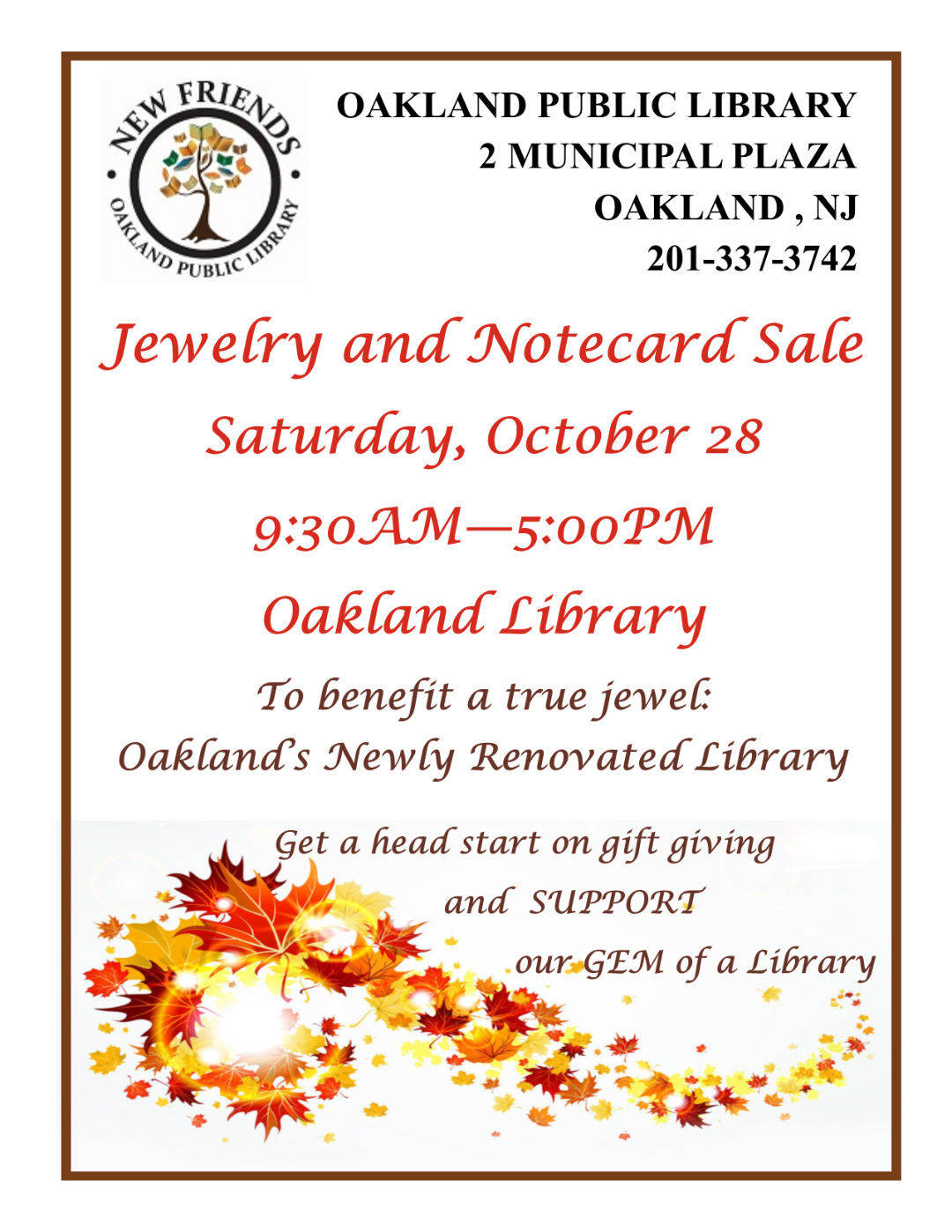 The Oakland Public Library is offering a 2018 Degree in Bookmanship. Complete your Degree by selecting 12 library books of your choice from the selected list of categories on the reading log. After you finish each book, bring your reading log to the library to get your "course" credit. In order to graduate, reading logs must be completed and returned to the Library by Thursday, May 24, 2018. 'Diplomas" will be handed out at the Graduation Reception on Thursday, June 7, 2018. All those who "graduate" are eligible to win a Gift Card. This program is open to adult readers. o register: 201-337-3742, or stop by the library.
Computer Workshop Wednesdays October at 1:00 PM– 2:30 PM. To Register for Computer Workshops please call the library at 201-337-3742 # 7004
• September 27 : cloudLibrary has replaced Overdrive. Come learn how to create an account and how to borrow eBook's and eAudio books.
• October 4: Pinterest is a great app for finding great ideas for recipes, decorating and more. Learn how to 'pin' favorites or browse Pinterest.
• October 11: Create a Facebook account and learn how to connect with friends and family. Basic computer knowledge and an email are required.
• October 18: Learn the basics of Microsoft Excel 2010. Create and format a table, learn how to sort data and more!
Knit and Crochet club meets on the first and third Monday of each month at 6:00PM – 8:00PM. New members and unfinished projects are always welcome.
Coffee and Color meets at 1:00 – 2:30. The Library supplies everything. Just drop in.
The October Cookbook Club meets on Monday, October 16, at 6:30 – 8:00. Please register by calling 201-337- 3742 #7005