Claire Harman. Charlotte Bronte: A Fiery Heart.
New York: Alfred A. Knopf, 2016
As reviewed by Ted Odenwald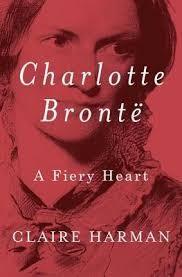 In 1857, British novelist Elizabeth Gaskell wrote a masterful biography of her friend, Charlotte Bronte, who had died two years earlier at the age of 39. As new materials were discovered over the years, several other biographers added their interpretations of her character, her family history, and her works. Combining these past findings with her own observations and discoveries, particularly in the form of personal letters, Claire Harman has written an insightful chronological narrative of the development of the brilliant though tormented mind and passionate heart of the gifted author.
Harman believes that the fires of frustration, anger, desire, and creativity were the recurring themes of Bronte's life and art. Confined to a basically isolated existence in a small Yorkshire parish by their father's clerical calling and his oppressive dependency upon his offspring, the six Bronte siblings knew little of the outside world. Although they were able to "escape" through extensive studies and through the family's collaborations in creating fantasy worlds—complete with heroes, villains, and passionate lovers–, Charlotte knew that this fantasy world could not satisfy her desires.
As Harman examines each chapter of Bronte's life, she cites passages from the novelist's four published works—revealing how Charlotte's experiences shaped the worlds and personalities of her characters. For example, at Cowan Bridge boarding school, the Bronte sisters appear to have lived in a veritable hell. Her two elder sisters contracted consumption, were not well-cared-for, and eventually died. Harman suggests that after a brief but brutal return to this harshly run school, Charlotte developed and channeled an "animus…into her portrait of Lowood School in Jane Eyre. There is a special quality of loathing in the Lowood episodes of the novel that goes above and beyond a fictional expose of a badly run institution. Lowood kills Helen Burns with its pestilential atmosphere, but its spirit-stifling dogmas are seen to be worse still, leading a saintly girl [i.e., Charlotte's sister, Maria] to believe that 'by dying young I shall escape great sufferings.'" Led by her teachers to believe that she had no talents or qualities of worth, Maria felt that her life would yield nothing but rejection.
Charlotte experienced an incredible series of tragic losses and frustrations; her mother, an aunt who tried to run the household, and all five siblings suffered horribly—most with tuberculosis. Charlotte was expected to be a caregiver, and she did so lovingly, especially with her sisters and fellow authors, Emily and Anne. However, her brother, Branwell, brought out Charlotte's hot temper because of his profligacy. He wasted a fine brain through wild living, which included drunkenness, opium addiction, and adultery. His mental deterioration was probably represented in Jane Eyre in the character of Rochester's insane wife. Reverend Bronte posed another level of tragic loss for Charlotte, as he believed that the family should devote their entire lives to him. He blocked his offspring's friendships and love relationships repeatedly in order to assure that he was the center of their world.
Harman calls Charlotte "…the part-time resident of a fantasy land ruled by erotic forces and the creator…of … many love scenes." Her frustrated passion, sublimated in her early unpublished writings and later manifested in each of her novels, revealed that she longed to find a "worthy" partner. Her journeys to Brussels in the early 1840's brought her passions to the surface. She became infatuated with her French teacher, Constantin Heger, who was the husband of her employer. They eventually became close as she excelled in her studies, and she eventually became his English teacher. When Madame Heger suspected that Charlotte had a crush on Heger, she sent the English woman back home. A large collection of letters which Bronte sent to Heger reveals the depth of her attachment, dependency, and frustration. Her distorted perceptions of this relationship are developed in each of her novels: The Professor; Jane Eyre; Shirley; and Villette. Particularly grating to Charlotte was her having to deal with her prodigal brother, who dismissed her depression; why couldn't society allow her to indulge her passions as freely as he had?
The fact that novel-writing was not an accepted outlet for a woman's intellect provoked further anger in Charlotte; she and her sisters, Anne and Emily, each published a novel at the same time. They were forced to take pen names: Anne was Acton Bell; Emily was Ellis Bell; and Charlotte was Currer Bell. Charlotte believed that her submission, The Professor, was not well- received because of mishandling by the publisher. Her subsequent novel, which was sent to a different publisher, was an exceptional success. Jane Eyre was filled with the anger of the abused and used young protagonist, who saw life as a bullied child in a horrible boarding school, as a governess whose entire existence depended on the whims of her pupil and her master, a basically indigent single woman who is asked to be the mistress of the man whom she loves. The novel became a kind of exorcism for the author.
Eventually, Charlotte felt compelled to reveal her identity to her publisher; there were too many suggestions about the identity and the gender of Currer, and the possibility that Currer, Acton, and Ellis were one in the same person. She was well-received by her publisher, who introduced her to many authors, including Charles Dickens and William Makepiece Thackeray. as Impressed with the "impetuous honesty" which he found in her work, Thackeray spoke of her "fiery heart." Elizabeth Gaskell became her close friend, understanding the many frustrations that Charlotte had suffered as a writer. Gaskell also understood that Bronte would always be uneasy in male-dominated circles in the cities.
Bronte finally found the love of her life, Arthur Bell Nicholls, an Irish-born curate. Her father had previously prohibited the match, but eventually gave in. But even this match which she so earnestly sought was doomed. Nicholls tried to control all of his wife's communications; looking over her shoulder, he commented on messages to her friends and admirers. He also insisted that letters which she received—even those from famous individuals—be burned so that she could "maintain her privacy." This treasure trove is a tragic lost for those seeking to develop a full picture of Bronte. In her 39th year, Charlotte Bronte became pregnant; but the joy of pregnancy didn't last long, because she became very ill and died, probably because of extreme reactions to hormonal change.
The worlds of Charlotte Bronte's novels are dark and threatening for their young heroines. That their anger and bitterness come through strongly and realistically is not a surprise when one considers the troubled life of a brilliant young woman, whose environment and relationships all seemed to be obstacles which she barely knew how confront, much less overcome.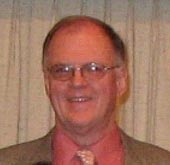 Ted Odenwald and his wife, Shirley have lived in Oakland for 45 years. He taught HS English at Glen Rock High School for all of those years plus one more. Now he is enjoying time spent with his family, singing in the North Jersey Chorus and quenching his wanderlust. Ted is also the Worship Leader at the Ramapo Valley Baptist Church in Oakland.