FLOW Follies 2012 Vision for a Community Event Comes to Fruition
by Deb Breslow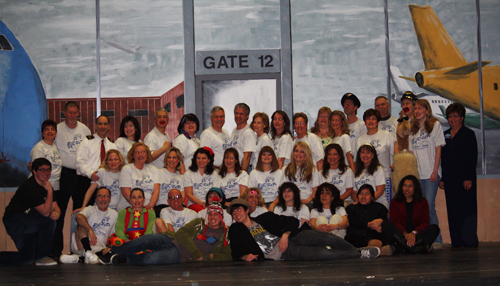 With an audience increase of 30%, a $500 jump in 50/50 raffle sales, a new In It To Win It scholarship giveaway, "dinner and a show" for local senior citizens,  considerable ad space purchased in the Playbill's ad journal, participation from the Ramapo-Indian Hills High School's Marching Band, Dance , and Interact Clubs, and stage appearances by FLOW district Mayors, Councilmen, school officials, and administrators, the 2012 FLOW Follies season marks a huge success.
While the final numbers are still being calculated from refreshment sales, community restaurant nights, and ongoing Friends of FLOW Follies memberships, FLOW Follies producers are already seeing  a $5,000 increase in scholarship amounts that will be available to Indian Hills and Ramapo High School seniors; well exceeding the $40,000 that was distributed in 2011.
Throughout four days of performances, close to 1,000 people were in attendance to watch Come FLOW With Me, a lively variety show poking fun at the foibles of air travel in the 21st century. A fresh offering: Matinee and Munchies, helped bring in the largest Sunday audience to a FLOW Follies production since 2005!  Ninety-three senior citizens enjoyed lunch provided by local merchants, served by local Interact volunteers, and coordinated by Sue Valenta, parent volunteer. The lunch and show  were offered to area residents for just $8.
Publicity in the RIH school newspapers, as well as student word of mouth, brought many graduating seniors to the FLOW Follies performances. Each hoped to win a raffled scholarship. The cast, crew, and production team see the 2012 show as a community victory. The involvement and enthusiasm of Ramapo-Indian Hills parents, teachers, students and alumni, the support of local merchants, school administrators, town officials, and the dedication of Friends of FLOW Follies volunteers helped to raise significant scholarship dollars for the Ramapo-Indian Hills Classes of 2012.