On June 5, 2012 Det. Pagerie charged a 29 year old Manhattan , NY man with theft and forgery for unlawfully withdrawing $4000.00 from a TD Bank account that did not belong to him.  The individual was identified through the use of video surveillance and the assistance of TD Bank Corporate Security. Bail was set at $20,000.00, no 10% and the charges were forwarded to the Morris County Sheriff's Department for service upon the defendant who was being detained in the Morris County Jail on unrelated charges.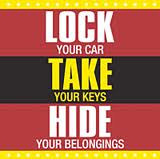 On June 8, 2012 a Walnut Street resident reported that her wallet, credit card and a small amount of cash was stolen from her car which was left unlocked in the driveway of her residence. Ptl. Frank Fiore investigated.
On June 9, 2012 Ptl. Noury conducted a motor vehicle stop on Ramapo Valley Road after observing the vehicle being operated in an erratic manner.  Indicators at the scene led to the arrest of the 60 year old Parsippany , NJ driver for driving under the influence of alcohol.  He was transported to HQ where he submitted samples of his breath for chemical analysis. Charges included D.W.I., D.W.I. in a school zone, and impeding the flow of traffic.  He was released on his own recognizance and given a date to appear in the Oakland Municipal Court.