Rotary Celebrates a Life of Service
Written By: Peter J. Kikot – Immediate Past-President of the Oakland/Franklin Lakes Rotary Club

On a beautiful morning in June the Oakland-Franklin Lakes Rotary Club inducted two of its members onto Rotary Rock; a memorial stone situated in Rotary park (right behind the Bough sign on RVR).  Members of the two families of former Rotarians Salvatore D'Accurso and Sonia Savarese were on hand as President Peter J. Kikot unveiled their names forever memorialized on brass plates.  Family members came from as far as California, Massachusetts, Connecticut and closer to home, Brooklyn, NY.  President Kikot added that "Both 'Sal' and Sonia were dedicated Rotarians and volunteers in our Oakland community.   Both served just about every office within Rotary and had a combined 60+ years of Rotary service between them.  They are sorely missed but will always be remembered with fondness." Kikot concluded.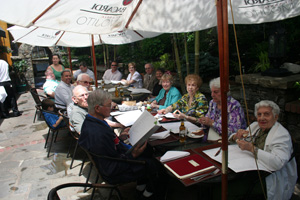 Family members as well as current and former Oakland/Franklin Lakes Rotarians all met together following the induction ceremony at Portobello's for a lunch where the conversation of their lives in Oakland and Rotary continued. OFL member Joe Russo spoke fondly of his friendship and Rotary association with Sonia stating that "Sonia always had a smile on her face and a positive attitude towards everything she did.  She loved Rotary and our Gift of Life Program.  I will never forget our friendship and am thankful for the time that we were able to spend together providing 'Service Above Self'."
Rotarian William DeLorenzo Jr. who was a close friend of Salvatore and shared over 50 years of Rotary Service with 'Sal' said that of the many firsts that the club achieved were with "Sal at the helm.  He was always an integral part of the club even into his 80's.  He and his wife also created the Oakland Rotary Logo.  He was not a charter member of the club but he was definitely one of the first.  There should be a street named after him."  DeLorenzo added with a smile "maybe one day!"
Founded in May 1950; the Oakland/Franklin Lakes Rotary Club is an international community service organization built on fellowship whose members include entrepreneurs, business executives and community leaders.  Rotary is a worldwide organization of business and professional leaders who provide humanitarian service and help to build goodwill and peace in the world. Rotary's global membership is approximately 1.2 million men and women who belong to more than 32,000 Rotary clubs in more than 200 countries and geographical areas.
We encourage everyone to check in with us regularly on our website for more information please visit: www.oflrotary.org.   Everyone is encouraged to stop in and meet with us at a regular meeting held every Tuesday evening at 6:30 pm at Portobello Feasts.  155 Ramapo Valley Road, Oakland, NJ.