AFTER HOURS at the OAKLAND LIBRARY and the New Jersey Theater Alliance Stages Festival Team Up
New Jersey Theatre Alliance's Stages Festival presents East Lynn Theater Company's production of "Sherlock Holmes' Adventure of the Speckled Band" at the Oakland Public Library located at 2 Municipal Plaza, Oakland, on Friday, March 23, 2018 at 7:00 PM. Registration is required by phone: 201-337-3742 or online at www.oaklandnjlibrary.org.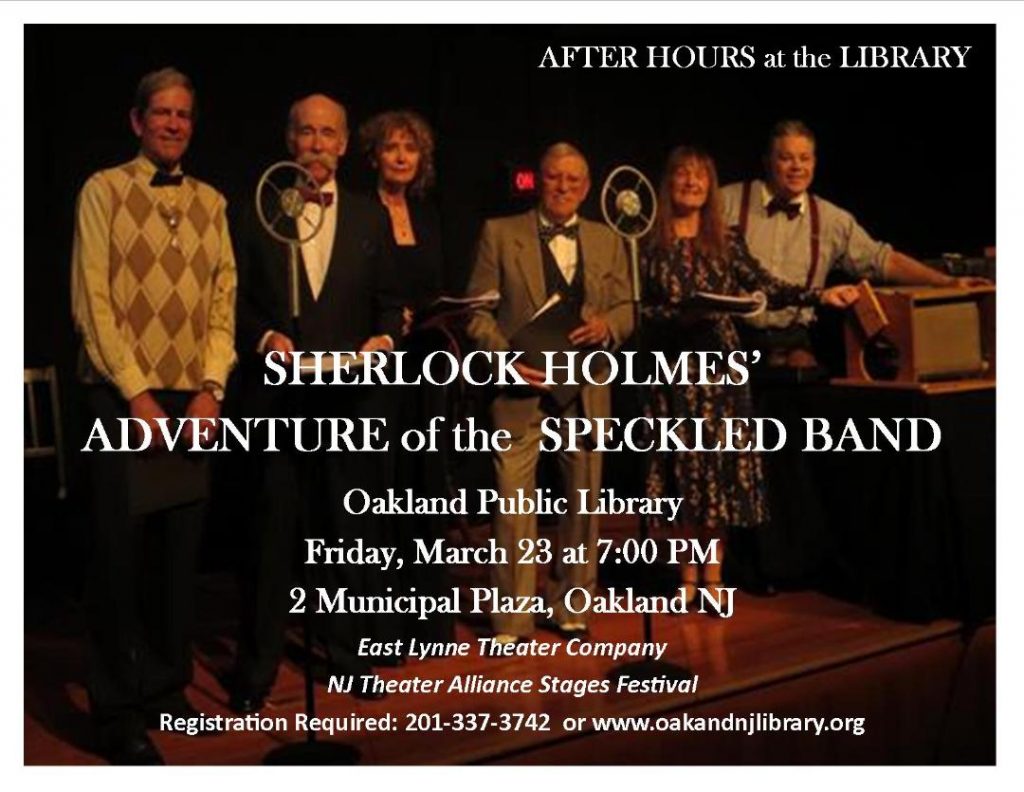 "Mr. Holmes, I am under such a strain that I shall go mad if it continues. Do you think that your powers could shed a little light in the darkness which surrounds me?" asks Enid Stonor. And with these words, Sherlock Holmes and Dr. Watson find themselves in a race against time to stop the bizarre murders in an eerie country manor.
Step back in time with the East Lynne Theater Company when they present Sir Arthur Conan Doyle's "Sherlock Holmes' Adventure of the Speckled Band " in the style of a radio broadcast, complete with live sound effects and commercials, just like the Sherlock Holmes' radio series on NBC that premiered in 1930. After Hours at the Oakland Library invites you to become a part of the "radio audience" .
To receive a full schedule of events for The Stages Festival please visit www.stagesfestival.org. To learn more about the NJTA please visit www.njtheatrealliance.org.
The Stages Festival is a project of the New Jersey State Council on the Arts and the Alliance. Major funding is also provided by Bank of America, The Horizon Foundation for New Jersey, and PSEG Foundation. Additional support is provided by individuals, corporations, and foundations such as The Blanche and Irving Laurie Foundation, F.M. Kirby Foundation, The Geraldine R. Dodge Foundation, Fund for the New Jersey Blind, and George A. Ohl, Jr. Trust.