(find links to connect with your local officials at the bottom of article)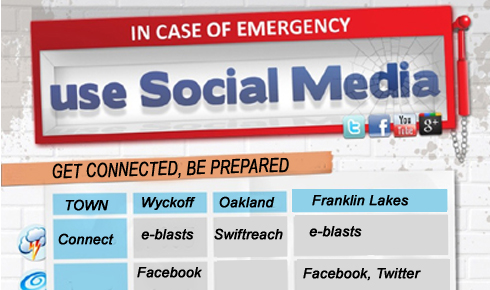 The past two years have brought 3 major storms to the FLOW region, and the season of Halloween and scary masks has been replaced with concerns over storms.
2011 brought Hurricane Irene at the end of the summer, devastating large neighborhoods all along the Ramapo River.
2011 also brought the Halloween Nor'easter with a major snow storm that downed trees and power lines all throughout the region.
2012 brought Hurricane Sandy, and NJ residents are still recovering from its devastating impact almost one year later.
These natural disasters have been a motivating factor in local towns improving how they communicate information to the public with Wyckoff being featured in a Bergen Record article.
Of all the three FLOW towns, Franklin Lakes has been the most aggressive in utilizing social media with both a Facebook page and Twitter account that supplement their e-blasts which residents can sign up for on the borough website.
The Township of Wyckoff also utilizes e-blasts to communicate with residents concerning regular updates and emergency information. Their Office of Emergency Management also has a Facebook page that has attracted near 1,000 followers.
Last fall, Oakland opted into the Bergen County operated Swiftreach program that will allow them to disseminate information in the event of an emergency or natural disaster.
Hurrican Sandy inspired numerous studies in how government can be better prepared to communicate with citizens in times of disaster.
The federal government, knowing that the first responders in a disaster will be those who live in a community, have issued various reports, guides, and studies on how local government can improve communication in times of a disaster.
In December of 2011, FEMA published A Whole Community Approach to Emergency Management: Principles, Themes, and Pathways for Action. The purpose of this report was address the reality, "that a government-centric approach to disaster management will not be enough to meet the challenges posed by a catastrophic incident".
This was followed in September of 2012 with Homeland Security publishing Community Engagement and Social Media Best Practices stating that, "Social media and collaborative technologies have become critical components of emergency preparedness, response, and recovery."
In June of 2013, in the wake of Hurricane Sandy, Homeland Security published Lessons Learned: Social Media and Hurricane Sandy. The report provides an overview of,  "how social media was used by various agencies and organizations, and discusses best practices".
The hurricane season of 2013 will not officially end until November 30th, and as the Halloween Nor'easter of 2011 exemplified – it does not take a hurricane to wreak havoc.
Being prepared for a storm includes being connected to learn about road closures, dangerous conditions, where to find assistance, and also how to offer assistance in times of disaster.
If you have not connected with your local government via social media, e-blasts or text messages, take the time to do that now.
FRANKLIN LAKES
Twitter
https://twitter.com/Franklin_Lakes
Facebook
https://www.facebook.com/pages/Borough-of-Franklin-Lakes/
E-Blast Sign Up
http://www.franklinlakes.org/
WYCKOFF
OEM Facebook
https://www.facebook.com/pages/Wyckoff-NJ-Office-of-Emergency-Management/
E-Blast Sign Up
http://wyckoff-nj.com/
OAKLAND
Swift Sign Up
http://oakland-nj.org/SwiftReach
Additional Preparation Links:
http://www.nhc.noaa.gov/prepare/ready.php
http://www.redcross.org/prepare/
Studies & Reports
http://www.naseo.org/…lessons_learned_social_media_and_hurricane_sandy_formatted_june_2013_final.pdf
https://communities.firstresponder.gov/DHS_VSMWG_Community_Engagement_Formatted_May_2013_FINAL.pdf
http://theoaklandjournal.com/wp-content/uploads/2012/11/whole_community_dec2011__2_-1.pdf