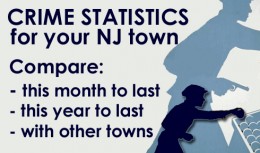 Residents in Franklin Lakes, Oakland and Wyckoff can check on the monthly crime stats via the NJ State Police Uniform Crime Report.
The reports – the most recent showing statistics for January and February of 2012, cover crimes such as forced entry, assault, larceny, and motor-vehicle theft.
Local police departments are required by statute to submit monthly and annual summary crime reports to the state police; and, those statistics are on the available database showing them in comparision to the same time period last year. Click here to learn more about the Uniform Crime Reporting Program.
For January-February 2013, Wyckoff showed 9 reports of Larceny/Theft, Oakland reported 14, and Franklin Lakes 2. Compared to the same time period last year, this translated into a 25% decrease for Wyckoff, a 16% increase for Oakland, and a 75% decrease for Franklin Lakes.
The data submitted to the New Jersey State Police Uniform Crime is based solely on the reports submitted by the local police agency. The reported data is preliminary and may be subject to review and verification.
If no crime occurred in the previous and current year then that category is not displayed.
Readers can click here to access the website which provides the statistics in a PDF file (536 pages).
Or for you can access information for your town by click on:  Franklin Lakes, Oakland, or Wyckoff .
An annual summary and analysis of crime throughout the state of New Jersey is also available as part of the 2011 Uniform Crime report. The full report is available online, and the second section of the report provides interesting information such as:
The most crime ridden month is July, the least crime ridden is February.
The total value of property stolen in 2011 was 390 million – 105 million recovered.
Larceny accounted for 60% of the total crime index, and 129,000 larcenies were reported in 2011