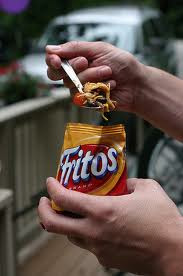 With the Oakland Town Carnival just weeks away, many people's hearts, minds, and stomachs are already there. This article is about the stomach, mostly.
The Oakland carnival offers a lot of great food options, and most are actually healthier than a lot of other carnival fare – such as the deep fried Twinkie.
Carnival food is not traditionally known as being healthy, but a carnival is not a daily, weekly, or even monthly event, and counting calories can be a spoiler.
There's a few common carnival foods that the Oakland carnival does not normally feature, and they are easier to make at home. So, if you're a carnival foodie that can't wait, here are some treats to make on your own.
Taco-In-A-Bag
This one that is actually not all that unhealthy, is easy to make, easy to clean-up, fun, and parents might actually be able to sneak some healthy ingredients past their kids palate.
Take a small, single serving bag of Frito's, crush the chips a bit, and add your favorite ingedients right into the bag — that's it. The work comes in with perhaps making some fresh chili rather than a can, and cutting up whatever accrutiments you want to add. This link gives you the best step by step directions with pictures of the process, and a happy customer.
Kool-Aid-Pickles
This is basically candy pickles. If you like pickles, what can make it better than adding a whole bunch of sugar and making them glow. The process itself is very simple, but the pickles need about a week to sit and abosrb all that extra sugar….and turn into something that looks a bit radioactive. Green, Blue, Red…whatever your favorite color and flavor.
Kool Aid Pickles are popular at many fairs, festivals and carnivals around the country, and in 2007 The New York Times reported on their growing popularity among children there.
Simply drain the brine from the pickle jar, add the Kool-Aid and sugar, and pour it back in over the pickles….then wait. Here's a recipe from Ehow on Kool Aid Pickles.
Banana Pops
This is another simple recipe that does not involve much work, just a bit of time in the freezer. It helps to have some kebob sticks to act as a handle, but probably not necessary as long as one does not linger to long while eating it.
Here you simply melt a bag of chocolate chips, roll the banana in it, and then freeze on wax paper. There's the option of adding additional ingredients like sprinkles or nuts, but don't add anything else healthy outside of the banana. You can find a recipe from allrecipes.com by clicking here.
Volunteer
The carnival is still in need of volunteers to help work the games of chance, and sponsorship opportunities are still available for business. Click here to get involved.