"Battle of the Bands" Winner Accepted to American Legion Jersey Boys State
Musically gifted student also excels at leadership and set for great things.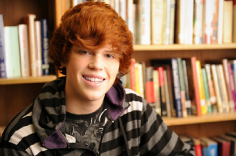 Oakland, NJ, April 30, 2014 – Chris Murphy, a high school junior, is looking to the future—and it looks very bright indeed. A talented musician, Murphy is the drummer for a band incorporated by Westwood Music Studios, which won a local "Battle of the Bands" competition on March 27, 2014.
"Music is an extraordinary influence in my life and it has granted me with countless opportunities to connect with others on such an inspirational level, along with invaluable life experiences obtained from an extensive variety of musical performances," expressed Murphy.
In recognition of his musical and academic achievements, Murphy has recently been accepted to the prestigious American Legion Jersey Boys State program, a week-long leadership and civic responsibility program held annually and now in its 69th year. "This leadership program will promote enhanced communication skills and organizational abilities that will sustain my future endeavors in the computer engineering industry," Murphy added. While attending the program this summer, Murphy will play the drums with the Boys State band.
Murphy attends Barnstable Academy in Oakland, NJ, a school with an individualized approach to education which allows students to take advantage of tailored academic programs and flexible schedules in order to pursue outside passions. They also have a well-respected performing arts program, which benefits musical students such as Murphy and supports them in achieving goals in academics, music, dance, and drama, as well athletics.
Barnstable's Executive Director Lizanne Coyne speaks very highly of Murphy. "Not only does Chris possess a positive image, personality, and attitude, but he is also an extremely hard worker who strives for excellence," Coyne explained.  'His performances constantly exceed my expectations, and I see him as someone with limitless potential and an ability to thrive within any chosen environment," added Coyne.
Barnstable Academy is located at 8 Wright Way in Oakland, New Jersey and provides an alternative college preparatory education to students in grades 5 through 12. For more information about Barnstable's unique approach to middle school and high school education, please call (201) 651- 0200 or visit www.barnstableacademy.com.