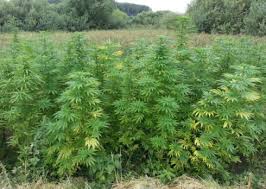 Today, after nearly a week long investigation the Oakland Police Department arrested Rory Dooley, 57 of Oakland, for numerous drug-related offenses. The investigation began on August 23, 2014 when  concerned citizens reported to Ptl. Gary Fiore that several marijuana plants were observed growing in an area adjacent to Oakland's Great Oak Park, near the end of Spruce Street. The subsequent investigation was led by Detective Bart Pagerie who was assisted by Lt. Chris Eldridge, Ptl. Frank Fiore, Ptl. Harvey and Ptl. Broek.  Electronic surveillance was conducted which resulted in capturing images of the suspect tending to the ten marijuana plants.
The suspect was taken into custody today without incident and charged with various drug-related offenses which included the distribution/manufacture of marijuana, manufacturing/distributing marijuana within 1000 feet of a school, manufacturing/distributing marijuana within 500 feet of a public park (Oakland's Great Oak Park and Schuyler Lake), possession of more than 50 grams of marijuana, trespassing, and the possession of drug paraphernalia.
Bail has been set at $75,000/ROR.
The Oakland Police Department would also like to thank the members of the Bergen County Sheriff's Department canine unit who assisted in the investigation.