From the Ramapough Conservancy: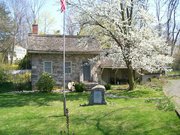 Exciting news!!! Here is our more detailed description of the construction which will start any day now at the Van Allen and Stream Houses in Oakland NJ. George Washington, if you are listening, we are fixing up your old headquarters from July of 1777.
For the Van Allen House, we plan on removing all wood shingle roofing and we plan on installing a vapor shield type temporary roofing system over new thin plywood sheathing. We also plan on installing temporary tarps and repairing the flashing where severe deterioration exists at the chimneys (some of this we already completed in the winter of 2012-13); we also plan on repairing some wood areas at sheathing.
For the Stream House, we plan on installing cables (approximately six) at top plates on the walls; we also plan on removing all of the roofing and installing new plywood over the entire roof and new rolled roofing. We also plan on sealing over the doors and windows that are currently open.
We also plan on taking down the orange fencing and putting up a new fence to both beautify and protect the vulnerable areas of the building.
With demolition, engineering and architectural costs included, the total cost for this first stage of our stabilization is $63,700.00.
This project was assisted by grants from the Bergen County Historic Preservation Trust Fund, a part of the Bergen County Open Space, Recreation, Farmland and Historic Preservation Trust Fund.
We do still, however, need your donations to match grants we are receiving now for next stages, and for operating costs (insurance, printing, administrative and regulatory fees, telephone, postage, accountants, etc.) Our address is Ramapough Conservancy, Inc., P.O. Box 1205, Oakland, NJ 07436.
Like the Ramapough Conservancy on facebook for more details…