June 7th 2014 – Possibly the Greatest Day in Oakland Recreation History!
"Volunteerism, family and cooperation are values we wear on our sleeves."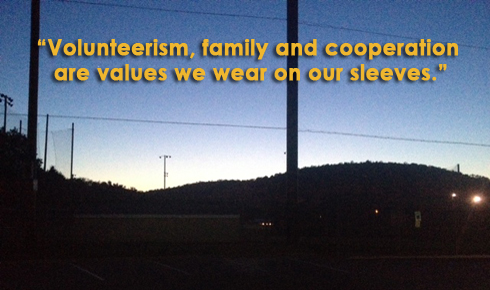 The sun rose at 5:25am on June 7th to a perfectly azure sky.  Many in town saw this sunrise; the reason why people were up so early will be explained later on.  The smell in the air, the sight of the rising sun and the perfect atmospheric humidity started a wave of energy that would buzz through Oakland all day long.  Only in a village such as Oakland, where "volunteerism, family and cooperation are values we wear on our sleeves", can a day like this be possible.  Everything was in perfect alignment in Oakland.
At 8:00am between 150 – 200 Oaklanders journeyed to Indian Hills High School to see a group of 16 local girls off to immortality.  The warm wishes, tears, excitement and love created a transference of energy, where they were not only willed to come home with the big prize, but it was a show of home town pride and love thrusted upon our girls regardless if their record was 0-33 or 33-0. This group of the finest softball players any school could hope to have, was undefeated and boarded a bus with the intentions of staying undefeated as well as winning the illustrious Triple Crown!  While the bus pulled out of the school parking lot and vanished from site, the cheers and applause were loud enough to reach that ball park in Toms River, the girls' destination.
By 9:00am there was another party starting; the annual baseball and softball parade at the Alexander Potash Recreation Complex. "This is the greatest day in Oakland Recreation's year" said then Coach Dan Logatto, now Recreation Commission Vice-Chair back in 2007.  This quote is our battle cry used every year and perfectly describes what the parade means to recreation and to the morale of recreation baseball and softball.  A major difference this year, the weather was perfect; in fact it was better than perfect.  What promised to be an incredible weather day at 5:25am kept its promised and actually over-achieved its reach.  Baseball Commissioner Marty O'Brien begins planning for the parade early in the calendar year.  Headed by volunteers Jill Hickey and Jan DelGrosso, every hot dog, cotton candy and blow-up ride is carefully chosen and planned out to the smallest detail.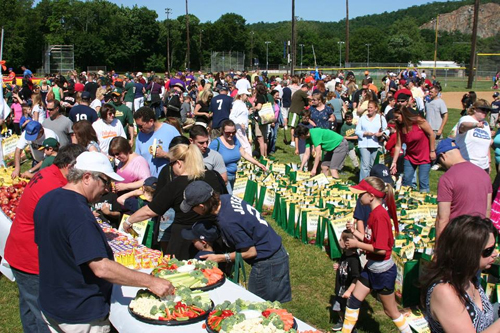 This year the parade grew even bigger than ever and took on a partnership with the Public Events Committee and Oakland Community of Commerce.  We live in a special era where all groups, committees and commissions work seamlessly together, and those two groups came to Recreation and asked "how can we help?".  This year's parade had music, healthy snacks, a photo booth and raffles, thanks to those two groups.  As is a yearly collaboration, the Oakland Mother's Club continued their tradition of setting up a booth to offer new and used sports equipment at discounted prices for all Oakland residents.  Oakland's Bravest and Oakland's Finest did their usual spectacular task of helping to make the parade exciting and safe.  The level of cooperation and good will this day continues to reinforce Oakland as a place where "volunteerism, family and cooperation are values we wear on our sleeves".
The team banners this year were incredible, they are always great, but this year they just seemed collectively better. Every banner was exciting, unique and creative! As the parade ended at field 7 the players and coaches gathered around the infield to enjoy the ceremony.  The Sports Association, who is entrusted with selecting and inducting Oakland Sports Hall of Fame members; honored former Recreation Commissioner and coach Ken Gysbers.  His plaque will forever be displayed in the Danny D'Elia building for generations to enjoy and reflect on his contributions.  What made Ken's induction so special was his very humble and beautiful speech.  In his usual soft spoken tone, he shared his respect for family and volunteerism.  Another very special individual received the Life Time Achievement Award.  This recipient was none other than former Recreation Commission Chairman and Coach Vince Letizia.  Vince's 26 years of service could not be summed up in one article; rather it would require a book of volumes to tell his story.  Vince too was very humble in his acceptance and spoke on how Oakland's greatness has always been its volunteers.
At 10:00am the ceremony ended and the party began.  The amount of people around the DJ booth, food stands and blow-up rides was unprecedented.  The noise level from the kids left no misunderstanding; the adults knew that they were having a great time. All Marty's, Jill's and Jan's hard work was now coming to fruition including the work of the Public Events Committee and Oakland Community of Commerce.  This great event for the children, once again reiterated Oakland as a town where "volunteerism, family and cooperation are values we wear on our sleeves".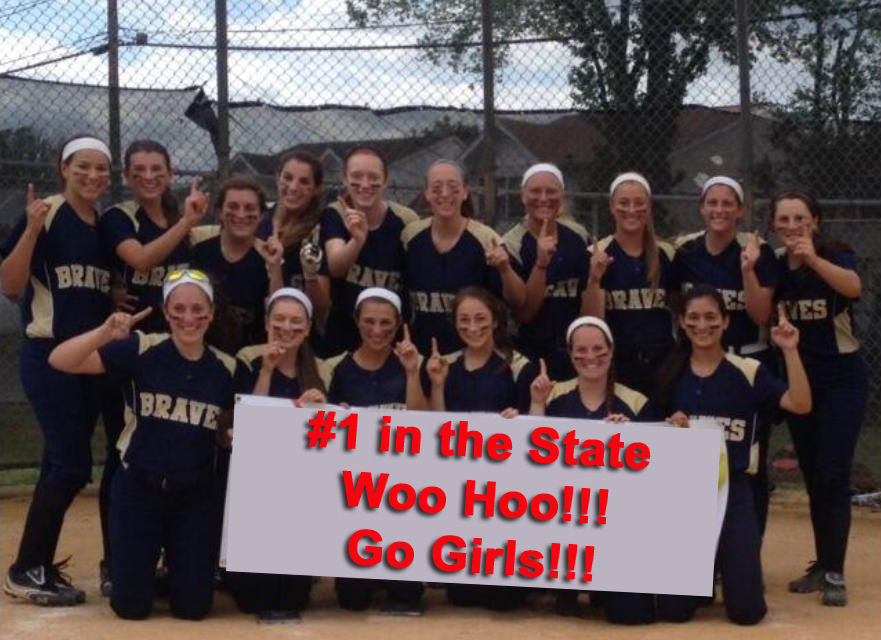 By 1:00pm some 93 miles away, our 16 girls were taking the field in hopes to become the very FIRST team have a record of 34 wins and 0 losses, along with winning what is called the Triple Crown; champions of their league, the county and the state.  The Braves jumped out to a 4 -0 lead, but their opponents from Ewing fought back to tie the score.  Our girls would not be denied today.  A couple of innings later they recorded 4 more runs to make the score 8-4.  Ewing scratched back for a single run, but that was all they would be able to muster against our Braves.  Around 3:00pm, the Indian Hills Braves had reached the pinnacle of softball immortality with an 8-5 victory, completing the first perfect season in NJ history!  The celebration at Toms River moved on to the bus as the Braves parents and fans would bring the girls, the Champion Braves, home.
Meanwhile, Oakland's Softball Commissioner had been quietly working behind the scenes to ensure that Oakland Fire Department along with the two other FLOW Fire Departments were all set to offer a hero's welcome.  By 3:15 Dan had called me and asked that I relay all information back to everyone in Oakland.  The information was passed on to the Sports Association of Oakland who used social media to get the information out to the masses.  As soon as they made their first Facebook post, the "visits", "shares" and "likes" started spreading like wild fire.  The excitement back in Oakland was boiling over.  Moments like this show how Oakland is a place where "volunteerism, family and cooperation are values we wear on our sleeves".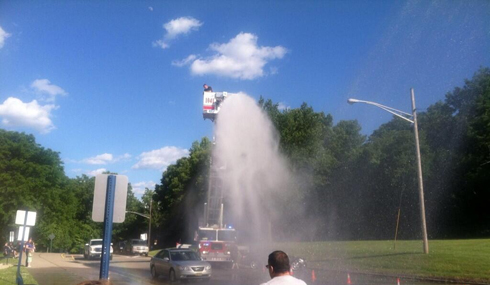 At 4:30pm the sirens wailed as the girls were met by the Fire Department.  A caravan of cars followed the girls and fire trucks as they circled the three FLOW towns.  Neighbors were hugging, and locals were crying from the joy that these girls could achieve such greatness.  It isn't by luck and it isn't by coincidence what these girls have experienced.  I have witnessed first hand the players taking it upon themselves to organize, many times, on what seems like quiet Sunday mornings during the winter for batting, pitching and fielding practices.  They are in the gym all off season, lifting weights and honing their skills.  These players do not show up on March 1st to begin their season, their season NEVER ENDS!  Winning takes discipline and great leadership.  Coach Leicht offers that leadership and it transfers to his team's leaders. IHHS Softball has now won 3 State Championships in the last 5 years!
By 6:30 the bus, fire trucks and caravan returned to where they began today's journey, Indian Hills High School.  The journey for the day had come to an end, but the work the joy, the sweat, the tears and the exaltation will last a life time.   Nothing can ever take away what these girls achieved and what everyone in Oakland enjoyed, whether it is watching the games in person or following them along on Twitter.  Another example of how Oakland is a place where "volunteerism, family and cooperation are values we wear on our sleeves".
Around 9:00pm, the final light of day, which began at 5:45am began to set below our mountains behind the recreation field.  June 7th is also a day where many of our IHHS seniors are down at the Jersey shore after enjoying their prom on Thursday night.  This is a weekend where many Oakland parents are on edge, including two recreation commissioners; your baseball commissioner and recreation chairman.  Having our kids 174 miles away can do that to a family community.  As we allow our kids to enjoy a right of passage and begin to allow them to spread their individual wings; those wings that will take them into adulthood, parents go on with sleepless nights, watching sunrises and remembering when those seniors were once a part of the recreation parade.  During these stressful times, the village of parents text, phone and talk to each other so we know our young Oakland adults are OK.  Days like this demonstrate that Oakland is a place where "volunteerism, family and cooperation are values we wear on our sleeves".  In a sense of community, those 17 and 18 years olds, like everyone back home, followed that IHHS Softball game from the Jersey shore.
So here we are, June 7, 2014, a day where everything went right for Oakland Recreation.  It was a day for all ages, when youngsters enjoyed their annual parade and carnival, where our teenagers thrilled us with fruit of hard work, perseverance and great leadership and where we honored two great volunteers.
June 7, 2014, the greatest day in Oakland Recreation's History!
Mike Guadagnino
Chairman
Oakland Recreation Commission
Are you on Twitter?  Mike tweets all Oakland Recreation information as well as Great Oak Park development on his twitter account: @MGuad27, follow him for the most up to date information.