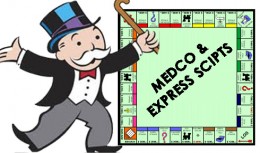 The merger of Medco and Express Scripts is rumored to be getting approval from the FTC by the end of next week.
The Franklin Lakes based pharmacy benefits manager will be merging with the St. Louis based Express Scripts, and most likely moving out of Franklin Lakes.
Moving with them will be many of the 2,000 jobs in the Franklin Lakes corporate campus; statewide, there are estimations that up to 2,400 jobs will leave New Jersey.
The loss of these jobs in the pharmacutical industry, considered a strong point in New Jersey's potential for job growth, has gotten little attention locally or at the state level.
The big argument against the merger rest on concerns that the new company, which will be filling one out of every three prescriptions in America, will use it's new power to raise prices and fees.
Supporters of the merger say that the cost effectiveness will allow the monopoly to offer lower prices and lower fees.
Comsumer advocacy groups, associations of independent pharmacies, and ant-trust activists are now appealing to the attorney generals of numerous states in an effort to block the merger.
States have the right to challenge mergers that have been approved by the Federal Trade Commission. New York, Pennsylvania, Ohio, Texas and California have been identified has five states showing in interest in a possible challenge. Other reports indicate that up to 25 states may have enough concern over the merger to join in a court challenge.
Additional Reading:
The Independent Druggist: March 2010 Article on PBM's. Explains PBMs business model; details efforts by Miller's Pharmacy in Wyckoff to fight PBM industry; the loss of Urban Pharmacy in Franklin Lakes; and the challenges facing Oakland Drugs.
PBM Lobbying Efforts: The PBM industry spends over 10 million annually to lobby and influence government officials.