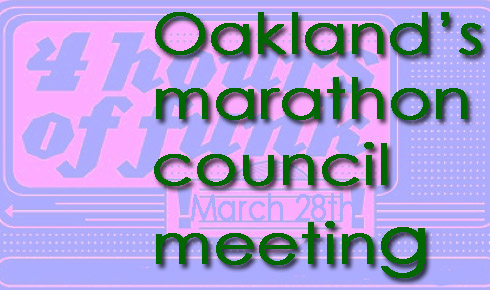 During the March 28th council meeting in Oakland, it was announced that Matthew Ruggiero won the Pine Car Derby held recently at Valley Middle School….That's as good as it gets, so continue reading at your own risk…
Mayor's Report
The process of synchronizing the traffic lights downtown continues. The actual synchronization is expected soon, but preliminary steps are presently being completed; the Recreation and Environmental Commissions will be meeting to discuss strategies for how the Pleasureland property may be utilized.
Ramapough Conservancy Presentation
Judith Sullivan of the Ramapough Conservancy and David Epstein of The Land Conservancy of New Jersey introduced themselves and provided the town council with a draft ordinance to lease the Van Allen House and Stream House.
Sullivan and Epstein described the draft lease as a document that provides a basis for customization that could include milestones and agreements to assure their stewardship is in line with municipal goals. Council member Stagg referenced previous work The Land Conservancy of New Jersey had done for Oakland regarding open space purchases.
Essentially, the Ramapough Conservancy would lease the property for a defined number of years, and assume stewardship for the property. This would hopefully result in additional funding sources available to both private entities and government entities.
Groups like the Land Conservancy of New Jersey exist across the nation, and they organize at the state, county, and local level. The LCNJ has been in operation for thirty years, and their model of public-private partnership includes partnering with local groups who in turn engage the local populace and governing body.
Council member Marcalus, apparently not understanding the organization of a nonprofit conservancy, asked Sullivan and Epstein "what's in it for you".  There was a slight pause before Epstein explained the LCNJ function, and Sullivan detailed her desire to volunteer as an Oakland resident.
Buddy The Goose & Ducks
Two residents spoke with regard to animal control. The first resident once again asked the council for assistance with regard to allowing the return of Buddy the Goose and ducks to the River Road neighborhood. The birds had become neighborhood fixtures over the years to both residents of the neighborhood and those who drive by, but were removed by order of the Health Department
The resident referenced a recent news article concerning a neighborhood turkey in Washington Township where the council took an active role in supporting the residents. Like Buddy, the turkey there had become a neighborhood fixture, and she hoped the Oakland town council could show similar support.
Another resident also spoke and stated that a wrong had been committed, that the allegations of the ducks either being in danger or being a hazard were overblown and without basis. He asked the council to rectify the situation, allow the goose and ducks to return, and monitor the situation in a more reasonable manner to avoid baseless assumptions.
The resident suggested that perhaps putting up a Duck Crossing sign would have been a more appropriate response, and he offered to head a fundraising effort to purchase the sign.
Oakland council member Pignatelli, former Health Officer in Lincoln Park, claimed it was animal cruelty to allow the ducks to live in the River Road neighborhood; and, the Mayor suggested the residents attend a board of health meeting to address the issue — but residents have been there and done that.
Fast Facts on Board of Health Budgets 2011:
Wyckoff total $98,577
Washington Township total $111,753,
Oakland total $198,673
Lincoln Park total $276,920
Senior Housing
John Biale, a resident of Oakland and a member of the Bergen County Housing Authority, discussed a proposal to put a senior housing unit in the now vacant property a few doors down from the Oakland First Aid building. A dilapidated house was recently torn down, and Biale proposes one bedroom units for senior citizens or seniors with disabilities.
The Bergen County Authority would build and assume responsibility for the operation and maintenance, and suggested this would help Oakland meet its affordable housing obligations.
Later in the meeting, a representative from Burgis Associates – the borough planner – advised the council that the over $800,000 in trust for affordable housing would be seized by the state without a local commitment to spend the money. He suggested that the purchase of this property, which is estimated at about $300,000, would be a good expenditure.
Central Business District Ordinance
Burgis Associates reviewed the Central Business District plan created in 2006, and an accompanying ordinance created in 2007.
The ordinance seeks to institutionalize elements of the 2006 downtown plan in an effort to promote business and new development: allowing outdoor seating, defining architectural standards, allowing greater building coverage per lot, lessening the setback, easing parking restrictions, and allowing for "mixed-use".
Mixed-use has become a popular trend in planning, but has existed in practice for thousands of years. The Burgis plan of lessening setbacks and allowing for the mix of residential and commercial entities is intended to simulate the Norman Rockwell image Main Street America where buildings line a street with retail storefronts on the ground level and two additional levels for apartments above.
Mayor Schwager expressed reservations in terms of having big buildings dominate the downtown landscape, but Burgis clarified that the new ordinance would change from presently allowing a 2.5 story building to a 3 story building.
Council member Pignatelli was resistant to any improvements to Oakland's downtown and sited increased traffic as the main problem. A more vibrant downtown area would result in people liking it and therefore an increase in the number of cars. He also repeated the same arguments made in 2008 that outdoor dining in Oakland was impractical without sewers.
Not having been in office in 2007, council member Coira stated she would like additional time to review the 12 page ordinance. The council as a whole is seeking input from both businesses and residents.
Pay-for-Play and/or When-Pigs-Fly
An ordinance to implement a local pay-to-play was introduced for consideration by council member Coira. The subject, debated in a previous council meeting, appeared split along party lines – though it was difficult to determine which council person represented which party.
Coira, a "Democrat", was promoting Governor Chris Christie's initiative to promote local pay-to-play ordinances which is the number one item on the governor's Best Practices Check List – The Governor is a Republican.
In Oakland, the "Republican" council members Pignatelli, Jensen, and Visconti expressed serious reservations with Governor Christie's initiative. Council member Pignatelli was the most verbose in saying that the ordinance would lead to people pouring more money into the political process, and that no law can stop corruption.
Council member Jensen stated that you can't stop crime, and seemed to imply that residents should leave their doors unlocked – assumedly to avoid having their windows broken by burglars. Council member Chris Visconti seemed generally flustered trying to understand how a local pay-to-play ordinance works.
Pay-to-play ordinances are focused to prevent vendors and contractors from acting as sugar-daddies to elected representatives or candidates. It was also discussed that local pay-to-play reforms provide  for more competitive bidding amongst potential vendors who see political contributions as a factor in being considered for a contract – hence the term Pay-To-Play.
In 2011, a handful of contractors and vendors contributed over $4000 to the last Republican campaign. Borough attorney Brian Chewcaskie alone contributed almost $1000.
While the subject of not being able to stop all corruption and all crime was proffered as an argument against Chris Christie's efforts to promote local pay-to-play ordinances, the council members in opposition to the ordinance did not extend this argument to dismantling the Oakland Police Department.
Fast Facts: 2011 Police Budgets
Ringwood Police $2,414,901
Franklin Lakes $3,006,125
Wyckoff Police $3,174,412
Oakland Police $3,996,250
Bi-County Tax Assessment
Bi-County, from which Oakland already purchased a small plot of inaccessible open-space property for 5 million dollars several years ago, still owns land not included in the previous purchase. Their most recent assessment of the remaining property led to an adjustment from 7 million dollars to about 2.5 million dollars, due to new restrictions that prevent full development.
4 Hour Meeting
It was a long meeting……